By Paul Steinhauser
CNN Deputy Political Director
(CNN) -- Call it the battle for Big Sky country.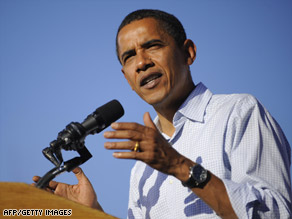 Sen. Barack Obama leads Sen. John McCain in CNN's latest Electoral College estimates.
George W. Bush won Montana by 20 points in his re-election victory four years ago. But it seems times have changed in the state.
CNN's new Electoral College map, updated Sunday morning, moves Montana from "leaning John McCain" to "tossup."
The move is partially based on the new CNN poll of polls in Montana, compiled Friday, which suggests that McCain has a 1-point lead over his Democratic rival, Barack Obama, 46 percent to 45 percent. Nine percent of voters are undecided.
"The fact that Montana is up for grabs has to be extremely unsettling for the McCain campaign," said CNN Senior Political Researcher Alan Silverleib.
"Montana's usually a reliably Republican state in presidential campaigns. It's been won by the Democrats only twice in the past half century. If you're a Republican and you're fighting for Montana in the last few days of the campaign, you're not in good shape."
Three electoral votes are at stake in Montana, a state Obama visited in late August. McCain, the Republican nominee, has not campaigned in Montana during the general election.
With Montana moving to "tossup," CNN estimates that if the election were held today, Obama would win states with 291 electoral votes -- more than enough to capture the White House. iReport.com: Show us last-minute campaigning in your town
Don't Miss
McCain would take states with 157 electoral votes, while states with a combined total of 90 electoral votes would still be up for grabs. A candidate needs 270 electoral votes to win.
The CNN Electoral College map uses such factors as the most recent state polling, voting trends, campaign visits and campaign advertising to estimate how a state would vote if the election were held today. See the map
CNN is also moving Iowa, and its 7 electoral votes, from "leaning Obama" to "safe Obama." The latest poll of polls in Iowa, compiled Sunday morning, suggests Obama now has a lead of 14 percentage points in the state, 53 to 39 percent.
The state narrowly voted for Al Gore in the 2000 election and narrowly voted for Bush in the last presidential contest.
Iowa was the site of Obama's first major political triumph in this long presidential campaign. His victory in the Iowa caucuses at the start of this year propelled him towards the Democratic presidential nomination. On Friday, tens of thousands of supporters gathered in Des Moines, the state's largest city, to cheer on Obama at a rally.
But the state's a very different story for McCain.
"John McCain has always had a somewhat cool relationship with Iowa voters," Silverleib noted.
"He didn't seriously contest the Iowa caucuses in 2000 and 2008, and he's opposed ethanol subsidies -- a political kiss of death with Iowa voters. Combine those facts with the backdrop of a struggling economy, and it's not terribly surprising that Obama is pulling away at this point."
E-mail to a friend

All About Montana • U.S. Presidential Election