(CNN) -- Not even the early birds could avoid long lines at some voting centers Saturday as pre-Election Day ballot casting continued in parts of the United States.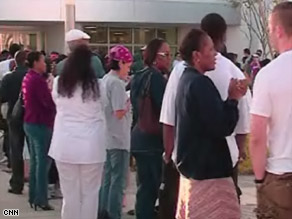 Hundreds of people were in line outside a polling place in Plantation, Florida, before it opened Saturday.
In Plantation, Florida, hundreds of people lined up at a polling center well before it was to open at 10 a.m. Some had arrived by 6:15 a.m., mistakenly believing that the center was opening at 7 a.m. like other centers in parts of the state, voters told CNN.
And at a polling center in Doral, Florida, about 75 people were in line at 6:30 a.m., half an hour before the center was to open, CNN affiliate WFOR reported.
One of them, Dana Fernandez, said long lines during the work week motivated her to wake up early Saturday.
"I came here five times this week during the day, and it was absolutely too much. So, I'm here early," Fernandez told WFOR. iReport.com: Are you voting early?
Florida is one of 31 states allowing voting, either in person or by mail-in ballot, ahead of Tuesday's election. By Friday, more than 23 million ballots had been collected in 25 of the states.
In Florida, a state hotly contested by presidential candidates Sen. John McCain and Sen. Barack Obama, more than 3,360,000 early votes had been cast as of Friday.
CNN Voter Hotline
If you have a problem voting or see a problem, call the CNN Voter Hotline at 1-877-GOCNN08 (1-877-462-6608); CNN will report on some of your calls, and our partner InfoVoter Technologies can help get you in touch with your election board or find your voting location.

In North Carolina, more than 2.3 million people -- or about 38 percent of registered voters there -- had voted by Friday, according to CNN affiliate WRAL.

Lines were long in several areas of the state Saturday, the last day for early voting in North Carolina. Waits of more than four hours were reported at a library in Charlotte, WRAL reported.

At least half of the state's 100 counties had elected earlier in the week to keep early-voting centers open Saturday until 5 p.m., four hours longer than originally planned, according to WRAL.

In Wake County, North Carolina, where a line for one polling place snaked around several buildings Saturday, Ardell Elerbe said he was voting early so he wouldn't have to endure longer lines on Election Day.

"Early voting is just an easy way to get out and vote ahead of the crowd before November 4," Elerbe told WRAL.

But early-voting lines still can be long, in part because only a fraction of Election Day polling places are centers for early voting.

For example, the polling place in Plantation, Florida, was one of only 17 accepting early votes in Broward County. About 300 are scheduled to be open in that county on Election Day.

Watch how Plantation voters arrived well before polling place opened Saturday »
Long lines also have been reported in parts of Oklahoma, where an early-voting period started Friday and was to end Monday. Gloria Okoroafor told CNN affiliate KOCO that she waited 45 minutes to cast her ballot in Oklahoma City on Friday.
Another Oklahoma City voter, Rosemary Ryden, said, "it feels like a revolution out here."
"I think it's wonderful that all the people are out here early," she told KOCO.
In Denver, Colorado, a steady stream of voters drove by a ballot drop-off location Saturday, CNN affiliate KUSA reported.
Kieran McCarthy, who was filling out his ballot while sitting on a lawn nearby, told KUSA that he thought that "the early voting in Colorado really helps."
"I think it's hard for a lot of people to take a day off work or get in line where you might be there half a day," McCarthy told KUSA.
At the center in Plantation, Florida, John Johnson was one of the voters who arrived hours early on the mistaken belief that it would open at 7 a.m. Saturday.
Johnson left before casting a ballot.
"I'll wait for Tuesday morning," he said. "And I'll make sure I know the exact time they open."
E-mail to a friend

CNN's Sean Callebs and Thom Patterson contributed to this story.
All About U.S. Presidential Election • Florida • North Carolina