(CNN) -- Even before the economic crisis, voters listed the economy as the top issue in the presidential election.

In a CNN.com special report, Battleground Voters, we talked to voters in five battleground states -- Colorado, Florida, Missouri, North Carolina and Ohio -- to find out how the economy would influence their choice for president.

In the last of four parts, we talked to the unemployed, who say keeping jobs in their communities and in the country is key to their vote.
COLORADO SPRINGS, Colorado: New jobs and keeping them from going overseas.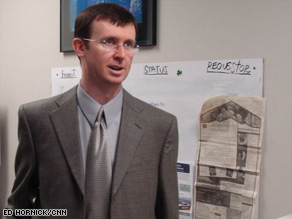 Since losing his job in July, Jon Lowder is taking resume-building and networking classes.
Plans to buy a home and start a family were put on hold this year for Jon Lowder and his wife.
Lowder was laid off from his job at a small software company this past July, and has been looking for work every day since. He's been relying on personal savings to stay afloat.
Lowder has taken advantage of a federally funded career center serving El Paso and Teller counties.
Shortly after getting laid off, he came to the Pikes Peak Workforce Center to take part in resume-building classes, professional networking workshops and job seminars.
But the job market for the software industry is not promising.
"[The job search] has not been going well at all. I haven't had really one interview, and maybe that's attributed to my target area that I'm looking for," he said.
Don't Miss
Lowder said he's applying to defense contractor positions in Colorado Springs, which is home to the Air Force Academy. He's willing to move to other areas of the country.
He said creating new jobs and keeping jobs from going overseas is key to helping the economy grow -- something the next president should focus on.
"It's really frustrating when you call a company and you get someone in another country," he said.
While the 37-year-old resident of this conservative-dominated city is still an undecided voter, he is leaning toward Barack Obama.

See how jobs weigh heavily on five voters' decisions »
"He's very optimistic and believes in America, which is great. And so does John McCain. It's just a matter of ... can they put in place what needs to actually be done. As far as the economy, I think there's one [who can do] more than the other."
-- CNN's Ed Hornick
BRADENTON, Florida: An inexorable, slow-rising flood.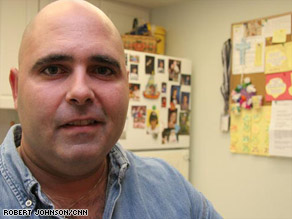 Mark Keller has cut out luxuries and cut down on necessities such as phone service to make ends meet.
As a resident of hurricane country, Mark Keller is used to riding out storms. But the financial crisis has been more like an inexorable, slow-rising flood.
Over the past year or two, the 38-year-old paramedic -- who brought his family from Connecticut to Florida a few years ago for the low cost of living -- has "cut down to the ultimates," he says.
First went the luxuries: the occasional dinner out with his wife, dance lessons for his two daughters, cable television.
He got creative with his remaining expenses. He asked the power company to cut energy at certain times of day and cut out most of his phone service and half his grocery list.
Now, life, short-term disability, vision and dental insurance are gone -- and this week, he's weighing whether his health benefits should follow.
"All the benefits that I was carrying at work that I always considered as part of my salary are now going to be on the chopping block, if I need them for a roof over my head, food in their bellies, and basically a place to keep dry," he said, gesturing toward his daughters, 7-year-old Ariana and 5-year-old Tarin.
He can "count on two hands" the number of houses near his home whose lawns don't sport for-sale signs. Many, like the two just behind his own house, are in foreclosure -- abandoned, with dark windows and unkempt yards.
It's a prospect facing Keller himself: With the slide in real estate prices, his home is now "upside-down" -- he owes more on it than it is worth.
The candidates' economic plans will decide his vote -- but Keller isn't ready to say which man has the edge.

Watch how the political parties differ »
"Florida is wanting change," says Keller. "I think the candidate that's going to have the best running in Florida will be the one who can not only say there will be change, but formulate the full plan and discuss it, so everyone understands where we're going."
-- CNN's Rebecca Sinderbrand
FENTON, Missouri: 'You've got to support the American worker, don't you?'
Auto worker Barb Brady is losing her job at a Chrysler minivan plant in Missouri.
Barb Brady and Joe Marshall are losing their jobs this week, and they say it might not be happening if Barack Obama were president.
Brady, 54, and Marshall, 44, have been dating 11 years. Brady has worked at the Chrysler minivan plant since 1995; Marshall since 1985. They met at the plant -- playing rummy during a break -- and they consider many of their colleagues family.
They said the popularity of fuel-efficient imported cars is partially responsible for the plant's demise.
"There's a large variety of places to buy a vehicle from, and they're not choosing ours," Brady said.
Marshall gets miffed thinking about it.
"Go to a parking lot somewhere and you see all these foreign cars. What are you people thinking? You've got to support the American worker, don't you?" he asks.
Brady and Marshall are members of United Auto Workers Local 110, and they back Obama because he supports the working class.
Marshall, whose father was a Teamster, takes umbrage with John McCain lumping union bosses in with lobbyists, trial lawyers and drug and tobacco companies.
"Didn't the unions build America? Let's face it, they built this land. But he's fought them; he wants to fight against them," Marshall said, shaking his head. "We don't need a president like that."
Brady and Marshall don't know what coming weeks will bring. They might be transferred. Detroit, Michigan; Belvedere, Illinois; and Kenosha, Wisconsin, are all possibilities.

Watch how Missouri usually picks a presidential winner »
But Chrysler could file bankruptcy, or another car company could buy the auto giant. Brady and Marshall say they don't know what happens to their jobs or pensions if either comes to bear.

Watch how the candidates tangle over taxes »
The possibility of a McCain presidency only compounds their anxiety, they said.
"He scares the heck out of me," Brady said.
"No, he scares the hell out of us," Marshall corrected.
-- CNN's Eliott McLaughlin
WHITEVILLE, North Carolina: Not finding many answers.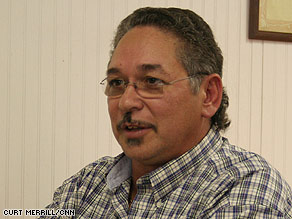 A market for new homes means Michael Lewis will lose his job at a plywood plant.
Michael Lewis is looking for answers -- and not finding many.
Lewis is the union president at a Georgia Pacific plywood plant in Whiteville, North Carolina. Because of the slowdown in the housing market, the plant will shut down on December 1, leaving Lewis and about 425 people out of work.
"A lot of employees come to me looking for assurance, what I thought was going to happen," Lewis said. "They are looking for some guidance and assurance, and I just don't have a crystal ball. I say, 'I don't know, man.' "
Because many of the textile plants that used to dominate the local economy have moved to China or Mexico, the employees will have few options in Whiteville or the surrounding Columbus County when they look for jobs.
"I'm 52 years old. I've never seen the economy in the shape it is in," said Lewis, who has worked at the plant for more than 28 years.
Lewis and other employees plan to take advantage of retraining programs offered by the state, but few would help him find a job in the Whiteville area, he said. The medical and funeral home industries appear to be the only fields where jobs were available locally, he explained.
"Columbus County is my home. Whiteville is my home. My children are here. My grandchildren are here, and it's going to be kind of tough to pick up and move," he said.
Lewis said he is voting for Barack Obama because he has a plan to keep jobs in America.
"I feel he has walked down the same road I have walked down, and I just feel he is in touch with what this country needs for working people," Lewis said.
Lewis said he never considered voting for John McCain.
"Ninety percent of the time John McCain has voted with George Bush, and there is no way that George Bush is for the working man," Lewis said. "And if McCain is going to vote with him 90 percent of the time, that shows me his not going to be with the working man, either."
-- CNN's Scott J. Anderson
AKRON, Ohio: 'You have to take a different road.'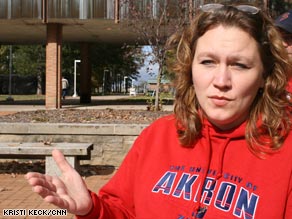 Deborah Helms lost her receptionist job and may soon run out of money for rent.
Deborah Helms has hopes of graduating from college, landing her dream job and providing a better life for her two children.
"One day I will be a prosecutor and a damn good one," Helms said with a laugh.
The single mother recently found herself unemployed after her position as a receptionist was eliminated. Out of work and out of money, Helms, 32, is in danger of losing her apartment in Akron, Ohio.
She isn't sold on either candidate because she believes people like her are being overlooked.
"Us single moms -- we go to college and we are striving to do better. We're not able to be with our kids as much because we are trying to reach these goals. We need the help there that says, 'We see you working hard for it and we are here to help you get there,'" she said.
Helms said she is leaning toward Barack Obama. She likes his message of change, she said, because that is what she needs.
"To get to a different place in your life, you have to take a different road," she said. "Obama has a different outlook on things than just about anybody I've supported before, so I think that's what we need. We need to look at it a different way."
She says the economy is playing a huge role as she weighs her presidential choices.
"When they are talking about a depression and things that we haven't seen in years, that's pretty scary. The reason I sway more toward [Obama] in terms of the economy is because he is more realistic. His ideas sound more applicable, she said.
"I swing more toward Obama, but to say if I'm definite? No."
-- CNN's Kristi Keck
Check out the previous stories in CNN's special report on battleground voters: Tuesday's installment focused on small business owners, Wednesday's on students and Thursday's on retirees.
E-mail to a friend

All About Job Losses • Recessions and Depressions