By Adam Levine
CNN
WASHINGTON (CNN) -- A number of states try to make voting a little easier by allowing voters to choose all the candidates from a single party with a single vote.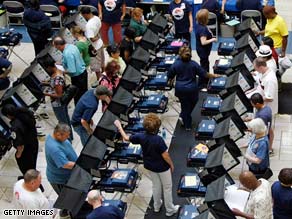 Voters cast early ballots Wednesday at a shopping mall in Las Vegas, Nevada.
The process is known as straight-party or straight-ticket voting. But while it sounds straightforward, the CNN Voter Hotline has gotten a number of calls with concerns about whether the option works.
In Pennsylvania, an e-mail being circulated warns people about voting a straight ticket.
"The e-mail said that it won't count your vote," Gwen Bryant of Chester, Pennsylvania, told the Voter Hotline.
"We've gotten a lot of calls about this," said Leslie Amoros, a spokeswoman for the Pennsylvania Department of State.
Amoros tried to reassure callers who are concerned that by voting a straight ticket, some choices would be omitted.
In Pennsylvania, "if you vote a straight-party ticket, that will reflect all the offices that are up for election, including the president," Amoros said.

Watch how confusion surrounds straight-ticket voting »
During testing of machines in Santa Fe County, New Mexico, straight-party ballots did not log a vote for the presidential candidate, said Rick Padilla, senior systems supervisor for the county.
CNN Voter Hotline
But Padilla says the mistake was caught and corrected before the machines were used.
"Those machines were never sent out to begin with," he said.
Straight-ticket voters may face confusion in North Carolina, where the presidential vote must be cast separately. Voters might think they are voting for the presidential choice when making the straight-party vote.
If the presidential race in North Carolina ends up being close, those missed votes could prove decisive.
"We unfortunately are the last state of the nation to do something of this nature. We are the only ones that separate it out," said Gary Bartlett, executive director of North Carolina's State Board of Elections.
Joseph Reynolds of Asheville, North Carolina, told CNN's Voter Hotline that he made that mistake. He tried unsuccessfully afterward to revise his vote on a provisional ballot.
Don't Miss
To ensure that voters understand the process, precincts are being told to give voters both written and oral directions on the need to vote for the presidential race separately from the straight-party choice, Bartlett said. He hopes the instructions solve the confusion.
"If someone doesn't vote for the office, it is their choice," he said.
Of course, a voter does not have to vote based on party, opting instead to choose candidates one at a time.
But many may prefer to vote based on party allegiance, and others may not be familiar with many names in local races.
"Ballots are very complicated things," said Andrew Perrin, associate professor of sociology at the University of North Carolina-Chapel Hill. "They can be pages and pages long. Anything that lets voters correlate those votes into a more easily understandable package of values and to express those values easily is a good thing."
Larry Norden, who directs the voter technology project at New York University School of Law's Brennan Center for Justice, does not like the straight-party option.
"Straight-party is confusing because people don't know what it means," Norden said.

Watch Norden break down confusing ballots »
"If you look at the explanations on the ballots, a lot of people don't understand terminology when they start talking about partisan and nonpartisan races," Norden said.
In North Carolina, for example, voting for judges and referendums is nonpartisan and is done separately from partisan races.
Oklahoma has straight-ticket voting, but it is broken into four categories: presidential, congressional, statewide races, and county and local races.
That process has been in place since 1992, and people are accustomed to it, said Michael Clingman, secretary of the Oklahoma State Election Board.
"It is always a little confusing," Clingman said. He added that the state trains election officials to assist people and explain the ballot.
In Texas, voters choose the presidential candidate and the others at the same time, if they select straight-party. But some voters then accidentally deselect a candidate in an effort to emphasize their vote.
That's what happened to Lisa Gordon of Colony, Texas.
"I voted for Democrats straight across, and then I voted for each individual Democrat," Gordon said in a call to the CNN Voter Hotline.
Peter Lichtenheld of voting machine manufacturer Hart InterCivic said the problem is user error and probably stems from habits formed when doing punch-card voting.
"In that system, you didn't know if the chad separated or not, so people would punch each candidate after punching the [straight-ticket] part, just to be sure," Lichtenheld said.
But voters no longer need to emphasize each vote on electronic systems.
"It does the emphasis voting for you," he said.
In an effort to avert mistakes, the Hart InterCivic system has a screen pop up to warn voters when their actions will result in deselecting a candidate, and on the summary screen it shows no selection in that contest.
Other states that allow for straight-party voting include Alabama, Indiana, Iowa, Kentucky, Michigan, Oklahoma, Rhode Island, South Carolina, Texas, Utah, West Virginia and Wisconsin. All these states include the presidential race as part of the straight-party choice.
The straight-party option can help speed up voting. But in Missouri, where the secretary of state's office is expecting a high turnout, voters will no longer have the straight-party option. The state legislature decided to get rid of it.
"It was just another convenience for voters," said Laura Edgerdal, the office's spokeswoman. "This year, we are looking at 76 percent turnout, and we have incredibly long ballots. Some have as many as 40 items."
Edgerdal said that a big concern is that old habits die hard and voters may think they can vote straight-party even though they cannot.
"On a paper ballot, you might circle the Republican logo and think that is a straight-party vote," she said.
E-mail to a friend

CNN's Leslie Bentz contributed to this report.
All About Elections and Voting • Political Parties • U.S. Presidential Election