(CNN) -- They were two very different groups, in two cities hundreds of miles apart, celebrating the same freedom to vote.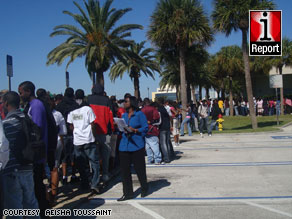 About 1,000 university students marched Monday to vote together in Daytona Beach, Florida.
In Cleveland, Tennessee, dozens of women supporting John McCain interrupted their busy lives to meet at a downtown museum and march together to vote early at a nearby polling place.
In Daytona Beach, Florida, about 1,000 students -- many of them Barack Obama supporters -- also voted early after marching from historically African-American Bethune-Cookman University to the polls.
The two groups of marchers represent a small portion of the millions of Americans now voting in more than 30 states, in what some describe as the election of their lives.

See how many Americans voted »
"It was amazing," said CNN iReporter Aeisha Toussaint, a 23-year-old senior who marched Monday from Bethune-Cookman's White Hall administration building to a polling station at a library about 10 blocks away. "We were talking about how we were making history, how we were never going to forget this."
The university scheduled a day off from classes for the event. Despite uncomfortably hot Florida weather and five hours of waiting in line to vote, Toussaint said casting her first vote was exciting. "The line surprised me," she said. "It went out onto the sidewalk and into the street."

Watch why early voting offers clues to election »
Political passion and commitment to candidates are the main motivations that experts say largely drive this month's surging turnout in early voting states.
During the women's march in Cleveland, Tennessee, last week, Amy Moore marched down Inman and Ocoee streets toward the courthouse plaza with her 8-year-old daughter. "There was this whole spirit of enthusiasm that left you with a good feeling," Moore said.
Some marchers in the group of about 60 carried McCain signs as they walked the four or five blocks to the polls. Drivers passed by honking horns in support, Moore said, or in protest, with their thumbs down. "It was an event to encourage women to vote," she said.

Watch why early voters can't wait to vote »
CNN Voter Hotline
If you have a problem voting or see a problem, call the CNN Voter Hotline at 1-877-GOCNN08 (1-877-462-6608); CNN will report on some of your calls and our partner, InfoVoter Technologies, can help get you in touch with your election board or find your voting location.

In Daytona Beach on Monday, Toussaint was just as enthusiastic.

"With a woman running for vice president and an African-American running for president, it made the election even more important for us," she said. "This is what our founder fought for."

Stepping into a voting booth for the first time was simply exciting, she said. "I had all my friends behind me, we were all together."

At the Cleveland polling place, Moore prompted her daughter to share the experience. "She loved it," said Moore. "She went into the booth with me and pressed the button and she knew exactly who to vote for."

Moore is one of more than 1.2 million voters who have cast early ballots so far in Tennessee, while Toussaint's vote was one of more than 2.5 million early votes and absentee ballots cast so far in Florida, according to statistics gathered by George Mason University.

By Wednesday, registered Democratic early voters in Florida had outnumbered Republicans 45 percent to 39 percent, according to state statistics provided by the Florida Democratic Party. Voters don't always vote for their party's candidate.

Nationwide as of Thursday, at least 16.9 million ballots had been cast in 23 states that allow early, in-person or absentee voting without having to provide an excuse.

The figures are based on reports from state election officials. Of those votes, 6.5 percent were cast by Democrats and 4 percent by registered Republicans.

Many early voting states do not specify party affiliation for voters. As with early voting statistics in every state -- these are not election results. Voters who are registered with a political party don't always vote for that party's candidates. More on early voting
Don't Miss
"The early-voting electorate will be more pro-Obama than the election-day electorate," said early voting tracker Prof. Michael McDonald of George Mason University. See McDonald's U.S. Elections Project
However, he said, don't count McCain out.
McDonald said the Republican ticket stands a good chance of winning in the critical battleground state of North Carolina, where early voters have surpassed 20 percent of the total number of registered voters.
And in Florida, where Toussaint cast her first vote this week, McCain's chances could hinge on mail-in ballots. Florida typically has a high volume of votes cast by mail-in absentee ballots, said McDonald. Mail-in ballots tend to lean Republican, he said, which might favor McCain.
"The fact that there's this larger share of the electorate that's voting by mail in Florida seems to mean that Obama does not have as much of an advantage in Florida as he has in other states where we see a much lower proportion of the vote being cast by mail," said McDonald.
Chairwoman Lisa Stanbery of the local Women for McCain Committee and Bradley County commissioner, expressed her support for the convenience of early voting, although she said she wishes the county could reduce the thousands of additional dollars that early voting costs taxpayers.
The marchers talked about early voting over lunch before the march, Stanbury said.
She said group members discussed the fact that "there are people who give up their lives to defend the right to vote, and in America, we seem sometimes a little spoiled, because we're so busy that we can't go in on that one designated day."
E-mail to a friend

All About U.S. Presidential Election • Florida • Tennessee