By Donna Brazile
CNN contributor

Editor's Note: Donna Brazile, a Democratic strategist, serves as a political contributor for CNN. She also serves as the chairwoman of the Democratic National Committee's Voting Rights Institute, an adjunct professor at Georgetown University and founder of Brazile & Associates, a Washington-based political consulting firm. Brazile, who served as the campaign manager for the Al Gore-Joe Lieberman ticket in 2000, wrote "Cooking with Grease: Stirring the Pots in American Politics," a memoir about her life in politics.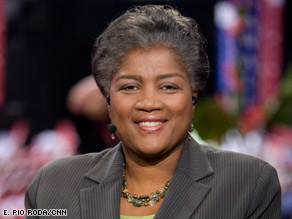 Donna Brazile says everything comes down to the ground game, how campaign use last three days.
WASHINGTON (CNN) -- Have your friends voted yet? What about members of your family? And how about you? How are you going to feel November 5, and for the next four years, if you don't?
What if your candidate loses? You're not allowed to complain if you don't vote, and if you're anything like me, it would be impossible to stay silent for four years.
Regardless of which campaign you're working for or merely supporting, the next 72 hours are the most critical period in this, the home stretch. Campaigns are now focused on one thing and one thing only: getting out their voters. And you registered voters are their targets.
Over the next few days, Barack Obama's and John McCain's campaign teams will begin their "dry run" up to Election Day. Dry runs are held to work out any kinks, test the field operations, and recruit last-minute volunteers to fill in the gaps.
There's also the "fire drill" with key campaign staff members gathering in the "boiler room" and testing everything, including the databases with lists of supporters and undecided voters and the auto dialers used to make last-minute calls to voters who need reassurance. iReport.com: Share your early voting experience
The street operation, sometimes called Operation Sweep, involves teams of volunteers who will be deployed to major intersections, football games, shopping malls or anywhere they can reach people where they work, play, shop, and eat out on weekends.
Don't Miss
In those early-voting states, the volunteers will start to scratch your name off the list if you voted early. But, if you're waiting until the last minute, you can expect a few phone calls, a knock on the door or even perhaps a call from someone inside the campaign who knows you personally.
Sunday brings "pulpit messages," which are nonpartisan, of course, because it's against the law to use the pulpit of a non-profit organization to preach for one candidate. Wink, wink. No one knows exactly what Jesus would do, but preachers will tell you that if you don't vote, don't expect anything to change.
Less strident political ads start running on the Monday before Election Day, but before the polls close you can expect satellite feeds of big-name campaign surrogates on TV news and radio call-in shows to bombard you once more.
No voter is off limits and no time is sacred when it comes to robo-calls from candidates. If you think because you live in a "safe" state locked up by a candidate and therefore won't be bothered by these calls, think again.
You're never safe from politicians on the hunt for last-minute undecided voters. Over the next 72 hours, every eligible voter will be contacted by one of the presidential, congressional, statewide, or local campaigns.
With ballot initiatives and referenda across the country, not to mention judges, sheriffs and assorted dogcatchers running for re-election, voters need to be prepared for a phone call, door knock or handshake as they depart their place of worship this weekend. Just think how much you'll regret not voting for, or against, one of your local judges should you ever get called before one.
So go do it. You can check www.canivote.org to see whether your state allows early voting. If it does, what are you waiting for? Do you really want to stand in line for hours on Election Day?
And what if there's a problem? Don't you want to allow time for the election officials to figure out what went wrong and fix it? Don't you want time to let the candidates you care about know if their voters are encountering problems at the polls?
For some, here's the best reason to vote: All the cool people will be wearing "I Voted" stickers. Join them.
Speaking of cool people, where the young folks at? You guys have been paying close attention, waving the flag all year long, so why haven't many of you come out early to vote? The candidates are looking for you and will likely camp out this weekend at your football games.
This election has the chance to be transformative, but it all depends on who tries to vote, who is allowed to vote, and how those votes are counted. Every campaign field staffer, poll worker, precinct captain, and campaign volunteer will be using this weekend as a dry run to Election Day, and they will not be looking just for votes.
They'll be looking for volunteers to help make Election Day go as smoothly as possible. Beat them to the punch and volunteer your time.
Poll workers are still needed across the country, as are people who can assist with the dozens of last-minute checklists left to field staffers to get completed. This includes uploading new databases of undecided voters that can be broken down by precinct and given to volunteers this weekend to make personal contacts with their neighbors.
Volunteers will have to be trained on local election laws, including what sample ballots look like, so they can in turn help educate new voters who may not understand how to navigate the electoral process.
Of course, both major political parties will have thousands of legal monitors stationed around major precincts to make sure there are no last-minute dirty tricks. If you do experience any problems at the polls, please report it immediately to CNN at the CNN Voter Hotline at 877-GOCNN-08 (1-877-462-6608).
Recognize that our election officials and systems may be woefully unprepared for the increased surge of voters this election has attracted. Lines are long, even at early voting stations. There's no telling what it will look like on Election Day.
If history is any guide, we won't have enough ballots, particularly in heavily minority and low-income districts. And we won't have enough voting machines -- again -- particularly in those districts. Resources, both human and material, are scarce and may not be equitably distributed. Be patient.
This election is so much more than a simple tally of votes. It's about targeting undecided voters for last-minute phone calls or in-person visits. It's about reassuring wavering voters who watched one too many attack ads or actually listened to one of the nastier robo-calls in its entirety. But, hey, this is democracy --messy, but still one of the best systems in the world.
See you at the polls! Meanwhile, send a silent prayer or two that we don't have any more recounts. Amen!
The opinions expressed in this commentary are solely those of Donna Brazile.
E-mail to a friend

All About Barack Obama • John McCain • Elections and Voting