(CNN) -- Even before the current economic crisis, voters listed the economy as the top issue in the presidential election.

In a CNN.com special report, Battleground Voters, we talked to voters in five battleground states -- Colorado, Florida, Missouri, North Carolina and Ohio -- to find out how the economy would influence their choice for president.

In the third of four parts, we talked to retirees, who say they're not only worried about their own finances, and whether they may need to work again, but about others, and the kind of world that their children and grandchildren will live in.
DENVER, Colorado: 'Take us back from the direction we've taken'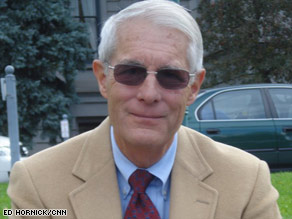 Government intervention to fix the economy is "absolutely necessary," Cameron Graham says.
Some of those hardest hit by the economic crisis this year are retirees who have seen 401(k) and other retirement accounts depleted.
Cameron Graham, 62, is a volunteer at the Colorado chapter of the American Association of Retired People, or AARP -- and said he hears horror stories all the time from fellow retirees.
"It's a very serious problem for all of us and particularly a serious problem for people who are retired or within probably 10 years of retiring," he said.
"Savings and participating in 401(k)s and other things to prepare for retirement -- they've seen it seriously depleted and it's going to change their plans for retirement, or if they are retired may make them actually have to re-enter the workforce."
The retired attorney, speaking in front of the state capitol building in Denver, said the country must "change the direction we have gone over the last 25 years."
Don't Miss
"A lot of the problems that we're facing now are the result of a philosophy of allowing financial institutions to do anything they wanted based fundamentally on greed. And it has led to a situation of government having to step in in ways I would prefer not to see, but is absolutely necessary," the Greenwood Village, Colorado, resident said.
While he declined to disclose his choice for president, Graham said the next president must focus on creating jobs and helping homeowners deal with crippling foreclosures.
"No one wins in a foreclosure. Everyone loses, everyone's values go down. And real estate is such a big part of our economy," he said. "I'm focused on a candidate and positions that will begin to take us back from the direction we've taken."
-- CNN's Ed Hornick
JACKSONVILLE, Florida: 'The American dream has gone'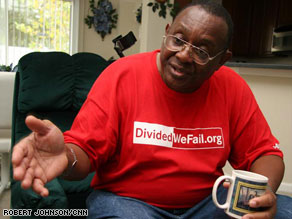 Linwood Mundy lives next door to two vacant properties in Jacksonville, Florida.
When it comes to dealing with lean economic times, Linwood Mundy takes the long view.
The 65-year-old spent his childhood sleeping under a roof so ramshackle "you could see moon in the night sky," inside walls with gaps so wide "you could pass something over to your neighbor right through them."
Now, the retired grandfather of 10 ("and one deceased") lives in a small, immaculately kept condo just a few miles away. But the economic anxiety of decades ago has followed him to his new home, in the form of dire national headlines, family financial pressures, and his own mortgage debt.
He lives next to two vacant properties: a home that has been in foreclosure for nearly a year -- "You can't sell it -- it makes my property go down, too" -- and a rental property priced too high to find any takers. "No one can afford it anymore. The American dream has gone," he said.
"People are sick, people are hungry, people are losing houses," said Mundy. "I mean, they're not eating no Ritz-Carlton food, it's not gourmet ... [just] enough to carry them until the next day."
But Mundy says he's lived through tougher times -- and despite disabilities that have him taking more than two dozen medications daily, he's determined to provide for his wife and himself.
"We don't eat like we used to eat, because now we have to be more economical-wise, because the cost of food has gone up so. What you used to pay a dollar for you are paying two dollars and a quarter for, or two dollars and a half. Everything has gone up but the pay increases, and Social Security," he said.
Still, "a man who is married, he takes care of his wife, and if you have children, you take care of the children. So that's what I do."
He just wishes, he said, that the presidential candidates would "listen to the American public, the voters. Listen. Listen. The problem today is, you're not listening. They're not listening."
-- CNN's Rebecca Sinderbrand
MEHLVILLE, Missouri: 'I don't have a lot of hope'
Don Strate says that without his wife Mary's income, it might be tough to pay the bills in these lean times.
Don Strate's non-Hodgkins lymphoma is in remission, but it would have been difficult to afford four years of treatment if not for his wife, Mary.
Strate, 77, retired from the St. Louis Police Department in 1989. Though he receives a pension and health benefits, the co-pays and deductibles could have been financially devastating.
"I'm making in pension today what I was making in salary 20 years ago," he said last week. "My pension, it's eroded because of inflation. It doesn't go as far as it used to."
Fortunately, his wife of 22 years has worked almost three decades with the Missouri Beer Wholesalers Association. Together, they comfortably get by.
Strate, a former crime lab commander, sits on the board of trustees for the Police Retirement System of St. Louis. He speaks regularly with retired officers. Many of them -- especially those with chronic or terminal illnesses -- are having trouble dealing with today's reeling economy.
"Other retirees have to go back to work to supplement their pension," he said.
While younger retirees can find work as bouncers or security guards, older retirees are taking jobs as couriers or grocery baggers -- any job in the public sector that will make them eligible for Social Security and Medicare.
November 4 will not change anything, Strate said. He likes Sen. John McCain and describes him as a "patriot" who can be "crazy sometimes." And Obama is inexperienced but "sincere," he said.
Congressional elections will have more impact on the nation than who takes over the Oval Office, he said. Strate will decide who to vote for when he walks in the polling booth.
"I've seen and heard a lot of political rhetoric," he said, adding of the presidential election, "I don't know. I don't have a lot of hope."
-- CNN's Eliott C. McLaughlin
WILMINGTON, North Carolina: 'This is our last hurrah'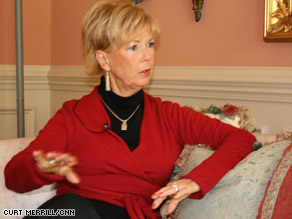 Nancy Brink lost a lot of her retirement savings when the stock market dived.
Nancy Brink never thought she would have to worry about money again.
But recent losses in the stock market have wiped out a lot of the money the 63-year-old retired interior designer and her husband, Ronald, planned to live the rest of their lives on.
"We never really thought that when we moved and retired that we would have to worry about money situations like when we were young," Brink said.
"But now we're talking about it, and we're worried about the economy," she added.
Brink and her husband of 42 years moved to the golf community of Porter's Neck Plantation, near Wilmington, North Carolina, from New Jersey in 2001. Brink called Porter's Neck, with its mix of active retired and semi-retired people, "just pretty much perfect."
But the economic downturn has many of her friends worried that they will not be able to stay in their dream retirement homes, Brink said.
While none of her friends has left yet, she said some are trying to downsize their homes "so they can rest assured that they are not going to run out of money."
Those economic worries are part of the reason why Brink is backing Barack Obama this year.
"I like the way that Obama says what he will do for you," she said. "No matter whoever goes into the White House in '09, they are going to have the problems to deal with, but I feel that Obama has the best route for us."

Watch Obama explain his economic plan »
Brink said she and her friends are also backing the Democrat because she believes Obama is inspirational and "has a plan to get America back to the standing of being No. 1 in the world."
"This is our last hurrah. ... This is it," she said. "We all have grandkids. We want to start thinking about the world and what we are leaving for our kids and our grandkids."
-- CNN's Scott J. Anderson
AKRON, Ohio: 'Live within your means, enjoy what you have'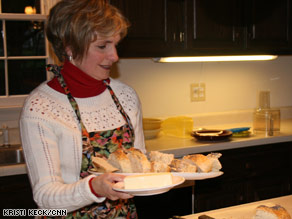 The nation's poor need more than money to help them out, Sharon Morris says.
Sharon Morris says she and her husband "breathe a great sigh of relief" when they think about what could have been.
Several months ago, they sold their rental condo at a great loss. The semi-retired couple thought about putting what they got out of the deal into stocks, but they decided to use it to pay off the mortgage on their house instead.
"If we had lost the money, we would have been in the same situation with the large mortgages. ... It would have been a very, very tense time for us right now," Morris said.
The Morrises, who are both on Social Security, are voting for John McCain. The Arizona senator had Sharon Morris' reluctant support until he picked Alaska Gov. Sarah Palin as his running mate.
When Palin joined McCain, Sharon Morris got fired up about the GOP ticket.
Morris said Palin complemented McCain's age and experience with a spirit of youth and vigor, and represented feminism in a new way that she could relate to.

Watch Palin discuss the GOP ticket's energy policies »
She doubts either candidate will be able to turn around the economy unless people can learn to "live within your means and to enjoy what you have."
"Money can solve a crisis problem, but the poor go from crisis to crisis," she said over a dinner of homemade bread and vegetables from her garden.
"We need to give the poor more than just money. We need to give them a reason to hope, to set goals, and to appreciate the dignity that God has given them. We need to be neighbors together, so that we can learn from one another and bless each other," Sharon Morris said.
Morris says they wouldn't be taxed more under Barack Obama's plan, but she predicts that businesses would be forced to raise their prices, so she would feel as if though her taxes had gone up should Obama be elected.
"I feel like McCain is on my side and he will do the best for me. And even if he makes a mistake, I feel like my confidence is more well-placed," she said.
-- CNN's Kristi Keck
CNN's special report on battleground voters continues Friday with a look at unemployed voters. Tuesday's installment focused on small business owners and Wednesday's on students.
E-mail to a friend

All About Barack Obama • John McCain • U.S. Presidential Election