NEW YORK (CNN) -- The next U.S. president will inherit a world of trouble, not least of all the global financial crisis, former Secretary of State Madeleine Albright said Thursday.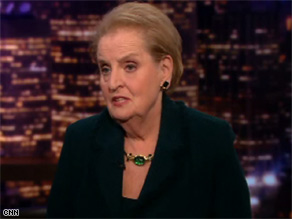 Former Secretary of State Madeleine Albright discusses issues she predicts will face the next president.
Albright delivered a list of problems when asked on Campbell Brown's "No Bias, No Bull" on CNN to name the top three challenges the new president will face.
"Something that was not on the table a few weeks ago is the international financial crisis," said Albright, who became the first female secretary of state while serving in the Clinton administration from 1997-2001.
"That is affecting the American economy. It is affecting our position in the world. It is affecting how countries treat each other. It affects the energy issue, all kinds of things, so that I think is No. 1."

Watch Albright discuss the issues »
Then she went on to summarize a host of other problems, which she called six umbrella issues:
• How to fight terrorism without creating more terrorists
• How to deal with a broken nonproliferation system so the worst weapons don't get into the hands of the worst people
• How to deal with the negative aspects of globalization and the growing gap between rich and poor.
Don't Miss
• Issues involving energy, environment and rising food prices
• How to restore the good name of democracy
• The wars in Afghanistan and Iraq and their unintended consequences; dealing with North Korea and the Middle East.
Albright, who supports Democratic presidential candidate Barack Obama, also predicted that the next president would close the U.S. detention center at the Guantanamo Naval Base in Cuba, actively join the dialogue on global warming and start pulling troops out of Iraq.
Turning her attention to the war against the Taliban and al Qaeda in Afghanistan, Albright focused on next-door neighbor Pakistan. The two nations share a mountainous and remote region that harbors terrorists, including Osama bin Laden, many believe.
"Pakistan has everything that gives you an international migraine," Albright said. "It has nuclear weapons, corruption, poverty, extremism, a terrible financial situation, a government that's just come in that's not very strong. And it is in a location that is absolutely essential in dealing with Afghanistan."
E-mail to a friend

All About Madeleine Albright • Iraq War • Economic Crisis