From Paul Steinhauser
CNN Deputy Political Director

WASHINGTON (CNN) -- Call it the Rocky Mountain road to the White House.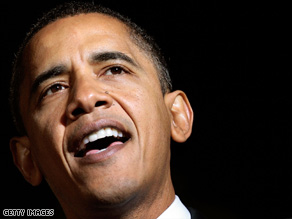 CNN's new Electoral College map shows Obama leading in several GOP-leaning states.
A new state poll suggests that Sen. Barack Obama has doubled his lead over John McCain in Colorado.
In a CNN/Time/Opinion Research Corp. survey released Wednesday, 53 percent of likely voters questioned say Obama is their choice for president, with 45 percent backing Sen. John McCain. That 8-point lead for Obama is double the 4-point advantage he held in a similar poll two weeks ago.
"Older voters in Colorado have started to break Obama's way," CNN Polling Director Keating Holland said. "Two weeks ago he was losing the over-50 crowd by a couple of points. Now he has a 5-point edge among them."

Watch how the states break down »
The new numbers in Colorado, along with similar findings from other new polls in the state, are factors in CNN's move of Colorado from a toss-up state to an Obama on CNN's new electoral college map.
CNN is also changing Indiana from leaning McCain to toss-up.
A new CNN poll of polls in Indiana suggests McCain holds a 2-point lead over Obama in a state that hasn't voted Democrat in a presidential election since 1964. The poll of polls is an average of the latest state surveys.

Watch more on how the candidates are polling across the country »
With the switch of Colorado (9 electoral votes) and Indiana (11 electoral votes), CNN estimates that if the election were held today Obama would win states with 286 electoral votes and McCain states with 163, with 89 electoral votes still up for grabs. Two-hundred and seventy electoral votes are needed to clinch the presidency.
The estimated 286 electoral votes for Obama is a jump from 274 in CNN's most recent electoral college map.
Washington state is also being moved from leaning Obama to safe for Obama, but that move doesn't change the electoral count.
The CNN Electoral College map is an estimate of what could occur if the election were held today. State polls, voting trends, campaign visits and advertising are among the factors used in deciding the electoral college map.
Colorado is one of three western states that voted for George W. Bush four years ago. The others are Nevada and New Mexico. Democrats have been making major gains across the west at the state level the past two election cycles and the party held its nominating convention in Denver, Colorado, this summer, as part of a strategy to win the West in the race for the White House.
CNN senior political analyst Bill Schneider said Obama's widening lead in Colorado is being "propelled by an amazing 15-point Democratic lead in Colorado's fast-growing suburbs. The nation's economy has faltered, and so has Republican support, for nearly 30 years the cornerstone of the Reagan coalition."
The poll also suggests Obama is holding onto a strong lead in Virginia, with 53 percent of those questioned backing Obama and 44 percent supporting McCain. That 9-point lead is down from a 10-point lead Obama held in CNN's last poll conducted in Virginia last week. No Democrat has won Virginia in a presidential contest since Lyndon Johnson carried the state in 1964.
Both McCain and Obama, campaigning in Florida Wednesday, are fighting hard to win the state's 27 electoral votes. The poll indicates Obama holds a small 4-point edge, 51 percent to 47 percent. Bush carried Florida by 5 points as he won re-election as president in 2004.
Bush also won Georgia by 17 points over Sen. John Kerry, the Democratic presidential nominee, in that election. But the poll suggests McCain holds a much smaller lead over Obama this time around. Fifty-two percent of likely Georgia voters are backing McCain, with 47 percent supporting Obama. That 5-point lead for McCain is down from an 8-point lead McCain held in CNN's last poll, conducted two weeks ago.
The poll indicates another state Bush carried in 2004, Missouri, is basically a dead heat. McCain holds a 2-point lead in the poll, 50 percent to 48 percent, well within in the survey's sampling error of 3.5 percentage points.
The poll was also expanded to include the major third party candidates, independent Ralph Nader, Libertarian candidate Bob Barr, and Green Party candidate Cynthia McKinney. None of them are polling over 4 percent in any of the states CNN polled and none of them seem to be a factor in the outcome of the results in those five states other than Missouri, where Nader's 4 percent showing could have an impact.
But will he hurt either McCain or Obama?
"In most of the states we have polled in, the margin between Obama and McCain is the same in the two-way match-up as it is when we include the minor-party candidates," Holland said. "That indicates that Barr, Nader and McKinney together may be drawing equally from both the Democratic and Republican candidates."
The CNN/Time/Opinion Research Corp. poll was conducted Thursday through Tuesday, with 774 likely voters in Colorado, 747 likely voters in Florida, 690 likely voters in Georgia, 825 likely voter in Missouri, and 721 likely voters in Virginia questioned by telephone.
E-mail to a friend

CNN's Ed Hornick and Keating Holland contributed to this report.
All About John McCain • Barack Obama