By Campbell Brown
CNN
Editor's note: Campbell Brown anchors CNN's "Campbell Brown: No Bias, No Bull" at 8 p.m. ET Mondays through Fridays. She delivered this commentary during the "Cutting through the Bull" segment of Wednesday night's broadcast.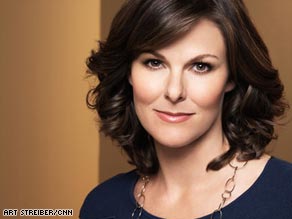 CNN's Campbell Brown says Sen. Elizabeth Dole's attacks on her opponent's faith are misleading.
(CNN) -- No, politics is not for the faint of heart, especially in the final days of a tight race. Still, amid all the attack ads on the airwaves competing to out-ugly one another, we think we've found a winner.
Sen. Elizabeth Dole, a Republican of North Carolina is trying to hold onto her seat in an extremely close race, and to that end, she is attacking the religious faith of her opponent, Kay Hagan. Here's what the ad says:
SEN. ELIZABETH DOLE (R), NORTH CAROLINA: I'm Elizabeth Dole and I approve this message.
NARRATOR: A leader of the Godless Americans PAC recently held a secret fund-raiser in Kay Hagan's honor.
UNIDENTIFIED FEMALE: There is no God to rely on.
UNIDENTIFIED FEMALE: There was no Jesus.
BILL O'REILLY, HOST, "THE O'REILLY FACTOR": Taking under God out of the Pledge of Allegiance, you're down with that?
UNIDENTIFIED MALE: We're down with that.
O'REILLY: In God we trust, you going to whip that off the money?
UNIDENTIFIED MALE: Yes, we would?
Godless Americans and Kay Hagan. She hid from cameras, took Godless money. What did Hagan promise in return?
UNIDENTIFIED FEMALE: There is no God.
Yeah, you heard that right: "There is no God." The only problem is Kay Hagan never said it. Never. Just a picture of her face over someone else's audio. Kay Hagan is a member of the Presbyterian Church. She is a former Sunday school teacher.
The fundraiser the ad mentions was not hosted by the Godless American Political Action Committee. A member was one of 40 different co-hosts. Sen. John Kerry was at this fundraiser.
'No bias, no bull'
Get the latest on the presidential race on "Campbell Brown: No Bias, No Bull"
8 ET Monday through Friday on CNN

The information in this ad is so ridiculously misleading, and yet, Dole is standing by it and continuing to raise questions about Hagan's so-called "godlessness" on the campaign trail. Is this really what it comes down to?

Watch CNN's Campbell Brown talk about Dole's ad »
We're fighting two wars, our economy is a disaster, and Dole's message to voters is to falsely accuse her opponent of not believing in God? Again, a false accusation.
Elizabeth Dole is hardly alone here. Her ad is just one of the most egregious.
So, to all the politicians desperately trying to hold onto your jobs, wallowing in the mud right now, willing to stoop to any level: Just say no to your own craven ambition. Just cut it out. Reclaim your dignity. And with only a few days to go, please, please just tell us what you think you can do to help get this country back on track. That's really all we want to know.
The opinions expressed in this commentary are solely those of Campbell Brown.
E-mail to a friend

All About Elizabeth Dole • North Carolina • Election Campaigns