(CNN) -- Even before the current economic crisis, voters listed the economy as the top issue in the presidential election.

In a CNN.com special report, Battleground Voters, we talked to voters in five battleground states -- Colorado, Florida, Missouri, North Carolina and Ohio -- to find out how the economy would influence their choice for president.

In the second of four parts, we talked to students, who say that while they're worried about making ends meet in college and jobs when they graduate, social issues matter, too.
BOULDER, Colorado: 'Fearful to go into our future'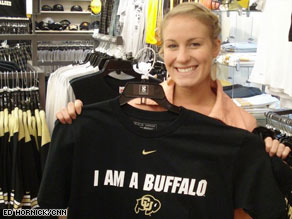 Katie Ulrich says her college savings have run out and she's looking for new ways to pay for her education.
Katie Ulrich, a junior at the University of Colorado, is worried about paying for the next two years at college -- and the effect the economic downturn is having on her chances of getting a job after college.
While the 20-year-old native of Huntington Beach, California, has survived on savings her parents established for her at birth, the money has run out -- and that has her looking for new ways to get by financially.
"I've had enough to cover my first two years of college, but this year I have been having to apply for financial aid and loans and the same thing next year," she said.
She said it's hard getting a job because restaurants in Boulder -- and jobs on campus -- are cutting back on employees. Ulrich, who registered to vote in Colorado this year, voted in her first presidential election on October 21.

Watch Daughtry perform for first-time voters »
While at first she wouldn't say who got her vote, Ulrich later said: "I hope Obama wins."
Don't Miss
"The person who I voted for has a better plan of getting us out of this [economic] crisis that we're in, and so I took a lot of time to research... both the presidential candidates," she said.
She added: "I really hope we can get the economy turned around. I think it's hard right now as a student because it's fearful to go into our futures without the hope that our economy will be better. We all want job opportunities. We all want the chance to get to have a great future, and with this crisis it doesn't look good. Hopefully, we can get it turned around."
-- CNN's Ed Hornick
TALLAHASSEE, Florida: 'We have to make them work for us'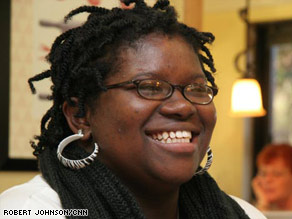 Students have to go back to the basics, says Leah Mapp. "I work, I save."
Florida voters of the generation heading to the polls for the first time this year have grown up in a state that's taken center stage during the campaign season for most of their lives. For many, like Florida State University junior Leah Mapp, the first election they remember was the recount battle of 2000.
Now another headline-grabbing event is having a major effect on everyday life: The credit crunch is altering the sense of what's possible, limiting it in ways her parents could never have imagined.
"People have to go back to the basics of: I work, I save. If you got to put it under a mattress, cool; if you got to put it in a shoe box, great," she says. " 'Cause your bank might close next week."
Mapp has spent her college career working two and three jobs at a time to pay for her degree and support her daughter, who lives hours away with her parents.
Over an IHOP breakfast last week, Mapp and her friends talked about the outrageous prices of their most recent purchases -- not trendy clothes or concert tickets, but ground beef, toilet paper and gas.
"I have to make decisions where it's like: Do I eat or do I go home?" to see her daughter, says Mapp. "I can't afford to get sick. If I get sick, I'm coming to work, I'm coming to class with my tissue and my mask over my face."
This Election Day looms larger than any before, say Mapp and her friends, who plan to vote for Obama -- but "I think what we have to realize is, the real work starts when whoever is in office gets there. We can't sit back like we used to and just expect them to work for us. We have to make them work," she says.
-- CNN's Rebecca Sinderbrand
ELON, North Carolina: A vote for the direction of the Supreme Court
Olivia Hubert-Allen is worried if economics will stop her from "starting her life on time."
Olivia Hubert-Allen is worried -- and frustrated.
The 21-year-old senior is preparing to look for a job after she graduates from Elon University in the spring, and she's worried the economic downturn will prevent her from "starting her life on time."
"Why, of all times, in my senior year, as I'm trying to get a job? I want to start my life," Hubert-Allen, a journalism major, said.
"I refuse to move back in with my parents. Will I have to work at Starbucks in the meantime?" she asked.
Hubert-Allen is trying to stay optimistic, though.
"You almost have to laugh about it because it feels like there is nothing you can do," she said, adding, "Maybe we'll be better off graduating this year, hopefully after the worst of it has passed."
But when it came down to deciding whom to vote for, Hubert-Allen said it was social issues -- such as protecting a woman's right to an abortion -- that made her decide to back Barack Obama.

See how students look at issues beyond the economy »
Though she found some of John McCain's positions on the Iraq war and the economy appealing, Hubert-Allen said she did not want McCain to be in a position to appoint conservative justices to the Supreme Court.
"So, in some ways, I'll probably vote for Obama to cast my vote for the direction the Supreme Court will take," she said.

Watch a discussion about how the candidates might shape the court »
While they are concerned about the economy, Hubert-Allen said it is not the main reason why a majority of her fellow students are backing the Democratic nominee.
None of her friends have been forced to leave school because they could not get a student loan or because of loses in their college savings accounts, she said.
"Everyone knows [the economy] is dismal, and everyone talks about how awful it is... but I don't know many students, at this point, that feel personally affected by the economy," she said.
-- CNN's Scott J. Anderson
ST. LOUIS, Missouri: Not willing to roll the dice
Tom Pinnell says he's not worried about the economy. "It'll work itself out."
His mother is a financial adviser, his father's a trust officer, so Tom Pinnell has familial insight into the economic crisis -- and he's not too concerned.
A St. Louis University political science major and third baseman for the Billikens' baseball squad, Pinnell said students enjoy some buffer from the mayhem on Wall Street. It also helps that he's considering law school -- not the job market -- when he graduates next year.
"Obviously, if my parents didn't have jobs or if they're seriously affected by the markets, I might have to take out student loans," the 21-year-old said. "They planned on paying for most of [law school], but they need to retire, too."
His parents have been chiding him lately about "useless expenditures," he said, and his father has always endorsed stocking up at Sam's Club rather than eating out.
Pinnell's grocery runs used to cost about $60 a pop. Now, he shells out $80 for the same wares. Those 30-packs of Natural Light beer that used to cost $14? They're $17 now, Pinnell said.
Even the watering hole that offered quarter pitchers last year is charging 50 cents, he said.
"I personally think it's just a business cycle and it'll work itself out," he said of the nation's turmoil. "I don't think it's going to have long-term negative effects on our way of life."
The coming election will resonate for years, however, he said.
A John McCain supporter, Pinnell believes the Arizona senator's patriotism and devotion to free markets and low taxes can help guide the country out of its rut.
Barack Obama's politics will mean higher taxes and more government spending, which will only hurt the country, Pinnell said. Plus, Obama has exercised poor judgment, particularly with his past associations, he said.

Watch Sarah Palin critique Obama's economic policies »
"Someone of his character leading the country? It's not a roll of the dice I'm willing to take, really," Pinnell said.
-- CNN's Eliott C. McLaughlin
UNIVERSITY HEIGHTS, Ohio: 'We've got something to lose in this election'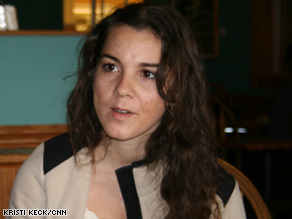 Juanita Padilla, born in Venezuela, is excited to participate in her first U.S. presidential election.
At a café near John Carroll University, students enthusiastically talk about the upcoming presidential election.
"I just think it's really exciting to be able to vote for the very first time," said Juanita Padilla, a sophomore born in Caracas, Venezuela.
Padilla is the lone John McCain supporter at the table of four. She plans to vote for the Arizona senator because she says he best represents her values.
Across from Padilla is Caitlin Huey-Burns, a senior who last month switched her registration from Maryland to Ohio. She likes Barack Obama's proposed $4,000 tuition tax credit in exchange for community service.
Huey-Burns is considering going to graduate school, and she is concerned about paying off future student loans.
"I was all set to enter the work force right away, and I'm kind of hesitant now," she said. "Continuing my education seems like a better option at this time ... If you had asked me this question last semester, I would have said I was definitely going to work for a couple of years and then go back to school."
Senior Mei-Ling Rivera-Cerezo can't vote in the presidential election because she is registered in Puerto Rico, but she is watching the election with as much fervor as her peers.
"I want Puerto Ricans to be able to vote for the president in the future," she said, explaining why she is voting in her local elections. "We get affected by anything that the United States does -- war, economy, policies, whatever."
Sophomore Colin Beisel predicts a big turnout from students at the school outside Cleveland. He says students are feeling the effects of the recent economic meltdown, and it's motivating them to go to the polls.
"We realize that we've got something to lose in this election. There's a lot at stake, and I think that this is the first time that young people actually get it in that they feel the problem. They can't go out and they can't spend money at places because they don't have it," he said.
-- CNN's Kristi Keck
CNN's special report on battleground voters continues Thursday with a look at retirees and Friday with unemployed voters. Tuesday's installment focused on small business owners.
E-mail to a friend

All About Barack Obama • John McCain • Education • Colleges and Universities