WASHINGTON (CNN) -- John McCain and Sarah Palin on Tuesday called on Sen. Ted Stevens, R-Alaska, to resign, a day after the veteran Alaska lawmaker was convicted on federal corruption charges.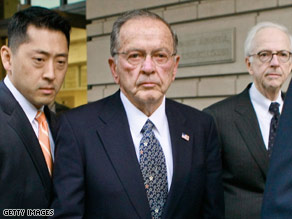 Sen. Ted Stevens leaves the federal courthouse in Washington after being convicted Monday.
Other Republican senators followed suit, as did Sen. Barack Obama, the Democratic candidate for president.
"Stevens has broken his trust with the people and ... he should now step down," McCain said in a statement issued by his campaign Tuesday morning.
Palin said the time had come "for him to step aside."
"Even if elected on Tuesday, Sen. Stevens should step aside to allow a special election to give Alaskans a real choice of who will serve them in Congress," Palin said in a written statement.
Stevens, the longest-serving Republican in the Senate, insists he is innocent and will continue to run for a seventh full term as he fights his conviction in court.

Watch CNN's Kelli Arena explain the verdict »
He was convicted Monday on seven counts of failing to disclose hundreds of thousands of dollars worth of gifts and free work on his home in Alaska.
He could theoretically face up to 35 years in jail, although experts say it is unlikely he will serve anything like that much time, and may not be imprisoned at all.
Stevens is the first senator convicted of a felony since Harrison Williams, a New Jersey Democrat, was convicted on bribery charges in 1981. Senate rules do not require Stevens to resign his seat.
The 84-year-old senator is locked in a tight race for re-election next week, trying to retain the seat he has held since 1968. It is too late for him to be removed from the ballot, and after his conviction he urged Alaskans to stand by him.
The latest polls show him neck and neck with Anchorage Mayor Mark Begich, a Democrat.
Sen. John Ensign, the Nevada Republican who heads the National Republican Senatorial Committee, issued a strongly worded statement Tuesday.
"I am disappointed to see his career end in disgrace," Ensign said, but added: "Sen. Stevens had his day in court and the jury found he violated the public's trust -- as a result he is properly being held accountable."
Sen. Jim DeMint, R-South Carolina, called for Stevens to resign "immediately."
But Stevens' campaign touted two new endorsements Tuesday, including one from Tom McInerney, a retired Air Force three-star general who once led the service's Alaska Command.
"Ted Stevens is also the one of the strongest supporters of our men and women in uniform wherever they are serving," McInerney said in a statement released by the campaign. "As chairman or ranking member of the Defense Appropriations Subcommittee, he has been at the forefront of our nation's defense. America needs Ted Stevens back in the United States Senate."
The other endorsement was from the Alaska Eskimo Whaling Commission, which cited his defense of native Alaskans' subsistence hunting rights.
The jury found Stevens failed to report about $250,000 in gifts and renovations to his house in Alaska between 1999 and 2006, paid for by the head of a large oil-services company. Members of the Senate are required to fill out forms each year stating what gifts they have received and from whom.
The Republican and Democratic leaders of the Senate said after Stevens' conviction that he must "face the consequences."
Sen. Harry Reid of Nevada, the majority leader, said "Stevens must now respect the outcome of the judicial process and the dignity of the United States Senate."
Sen. Mitch McConnell of Kentucky, the minority leader, said Stevens "will be held accountable so the public trust can be restored."
But even if forced from office, Stevens remains eligible for an annual Senate pension estimated at $122,000. The acts for which he was convicted occurred before the ethics rules passed in 2007 took effect -- and in any event, the charges he faced are not among the 10 specific felonies that would require him to forfeit his retirement pay.
After the jury's verdict was read, Stevens did not react in the courtroom but afterward blasted the prosecution in a statement for "repeated instances of prosecutorial misconduct in this case."
"This verdict is the result of the unconscionable manner in which the Justice Department lawyers conducted this trial," he said.
"I will fight this unjust verdict with every ounce of energy I have. I am innocent."
The senator's attorneys twice sought to have the charges thrown out during the monthlong trial, accusing prosecutors of hiding evidence favorable to the defense. U.S. District Judge Emmet Sullivan rejected those efforts but faulted prosecutors for "hiding the ball."
The judge scheduled a hearing on any pending motions for February 25.
The charges against Stevens related to renovations on his family home in Girdwood, Alaska. The remodeling was done by his longtime friend Bill Allen and Allen's oil industry services company, VECO Corp.
The prosecution accused Stevens of knowingly failing to declare hundreds of thousands of dollars worth of gifts and work on his house in Alaska between 1999 and 2006.
Members of the Senate are required to fill out forms each year stating what gifts they have received and from whom.
Stevens' defense said Allen had quashed bills without the senator's knowledge. Allen testified that he had done so because he "liked Ted."
E-mail to a friend

CNN's John King, Alexander Mooney and Scott J. Anderson contributed to this report.
All About Ted Stevens • Alaska • Bill Allen