(CNN) -- The McCain campaign focused on Pennsylvania on Tuesday, working to overcome a double-digit deficit in a state with 21 electoral votes.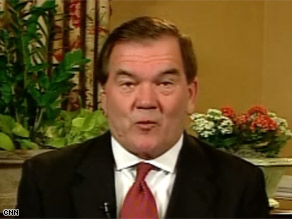 Former Pennsylvania Gov. Tom Ridge told CNN on Tuesday that the Republican ticket can win in his state.
Republican presidential candidate Sen. John McCain teamed up with his running mate, Alaska Gov. Sarah Palin, for a rally in Hershey. McCain told voters at a rally Monday night that "we've got to win Pennsylvania."
CNN's latest poll of polls for the state shows McCain's Democratic rival, Sen. Barack Obama, leading by 52 to 42 percent.
Tom Ridge, a Republican who was governor of Pennsylvania from 1995 to 2001 and attended the rally in Hershey, spoke to CNN's "American Morning" on Tuesday about the McCain ticket's prospects in his state.
CNN: A lot of Republican strategists can't quite figure out why John McCain is spending so much time and money there in Pennsylvania, that he would be better, because of the margins, to take his money and spend it in closer states like Colorado, New Mexico, Nevada, Virginia. Why does he continue to campaign so heavily there?
Tom Ridge: Well I think John, as you noticed, campaigns heavily just about everywhere. But I think when you have 21 electoral votes that you think you can put in your column, it's actually, if you think about it, a swing of 42 -- 21 that has traditionally been in the Democrat column and then they've got to backfill.
So I think he sees and senses that we have enough independent-thinking Democrats who want fiscal discipline in Washington, want reform in Washington, don't want an increase in taxes, and a lot of values voters in Pennsylvania, a lot of Reagan Democrats here. And I think that's why it's so appealing to John and Gov. [Sarah] Palin. That's why they spend so much time here. We believe we can win this state.
CNN: Last Republican to win Pennsylvania was George H.W. Bush in 1988. If John McCain can win the Keystone State, where does he win it?
Ridge: I think, following President Bush and then President Reagan, as I said before, this is a heavily Democrat state. But clearly there are a lot of independent-thinking Democrats, else I would never have been elected governor of Pennsylvania. And I think throughout this state, but particularly the northeast and the southwest, where there's heavy Democratic registration, I think, they are pro-military, they're pro-gun. They are not bitter about things as Sen. Obama has said. They have been going to church and enjoying the right to bear arms for a long time. And they're also a group of people who don't think that they are undertaxed.
So the message that seems to resonate and have traction here is that one candidate will raise taxes, one candidate will cut them; one candidate looks for activist judges to redistribute wealth as a matter of economic justice, the other candidate does not choose to look for activist judges -- all these and other values, as well as John's tested, tried record of reform and bipartisanship.
CNN: Governor, on this idea of activist judges to redistribute the wealth, that certainly hasn't been a part of his campaign pledge. There's been some audio where he talked about that some years ago. Let me ask you this question though: Do you believe John McCain has to win Pennsylvania in order to win the White House?
Ridge: I said that before, and I stick by my assertion of a couple of weeks ago: I think it's pretty clear that the chemistry of this election, red states are now in play, some blue states are in play -- if nothing else it's a backup. But yes, I believe we need to prevail in Pennsylvania for John to win. And I think we will.
CNN: If you were on the ticket, would you bring home Pennsylvania for John McCain? You were on the short list there for a while.
Ridge: Well, I said before, and only half the sentence was reported, I said the dynamics would clearly change if I had been on the ticket, just as the dynamics in this state would have changed if Sen. Obama had selected [current Pennsylvania] Gov. [Ed] Rendell. Whenever you choose an incumbent governor or someone who has served as governor, I think the dynamics change. But to John's credit, he wasn't looking to prevail in one particular state, he was looking for someone to energize the base throughout the country, and he made the right choice with Sarah Palin.
CNN: Certainly if you put Pennsylvania in the win column, it makes the route to the White House a lot easier. Would he have been better off picking you?
Ridge: Again, John is running a national campaign. I don't think there was any particular strategy that said we just have to win Pennsylvania. But as things have evolved over the past four to six weeks, it's pretty clear that we've become not only a battleground state, but a pivotal state.
Again, I think John made an excellent choice. I've been with Gov. Palin. I've seen her energize the crowds. I know how the Republican Party and the base feels about her. John wasn't looking for a candidate to help in one state, he was looking for a candidate to help in all 50. I think he found that running mate.
E-mail to a friend

All About John McCain • Barack Obama • Tom Ridge • Sarah Palin • Pennsylvania