By CNN's Simon Hooper
FREDERICKSBURG, Virginia (CNN) -- Lula Easterling and her friend Bill Hardenburgh have voted Democrat all their lives. But browsing through a pile of Sarah Palin t-shirts, baseball caps and other merchandise as they wait to gain access to the Republican vice-presidential candidate's campaign rally in Fredericksburg, the pair admit next week they will be casting their votes elsewhere.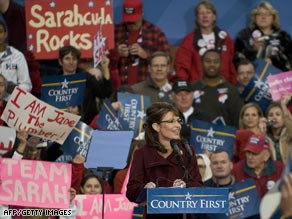 Palin supporters braved chilly conditions and heavy rains to greet the Republican vice-presidential candidate.
"We're here to show our support for John McCain and Sarah Palin," Easterling tells me. "We like their strategy on the economy and everything they say. He's an honest man, he doesn't lie and she's the same."
Most of all though, Easterling doesn't like Barack Obama. "I'm scared to death of him," she admits. "I'm scared of what he stands for, the whole nine yards. He hangs with the terrorists and he lies. He never tells the truth and he's a flip-flopper. He's not to be trusted."
Hardenburgh meanwhile has picked out a badge featuring a mocked-up image of a stars-and-stripes bikini-clad Palin wielding a rifle with the slogan "Caribou Barbie Shoot First!"
"That's what I like about her, right there," he says, pinning it to his Harley Davidson jacket.
A small town halfway between Washington DC and Richmond that was the focus of a series of bloody battles during the American Civil War, Fredericksburg and its citizens wear their history, an unselfconscious patriotism and an almost pathological suspicion of "big government" proudly.

Follow the campaign trail in Virginia »
And while Obama and his supporters may have ambitions of carrying Virginia for the Democrats for the first time in more than four decades, on the evidence of the 6,000 or so people who waited for hours and braved a freezing rainstorm to hear Palin speak -- one of three campaign stops by the Alaskan governor across the state Monday -- Republicans have no intention of surrendering without a fight.
"Keep Virginia Red," reads one of dozens of banners capturing the mood of the audience. Watch Palin supporters rally in Virginia

Don't Miss
"I love Sarah Palin. She's just like I am. She's a straight talker. You may not agree with what she has to say but she's going to tell you the truth," says government employee Jeanette Montoya. "I hope she gets in there and takes out the trash."

See photos of McCain-Palin supporters »
Taking a prompt from one of Palin's unofficial campaign slogans -- "Drill Baby Drill!" -- Montoya cites rising fuel costs and American dependency on foreign oil supplies as her principal concerns: "I want them to start drilling in Alaska. I want them drilling in South Dakota, North Dakota and everywhere there's oil."
Merle Fallon, a 62-year-old attorney and Vietnam veteran -- one of many ex-servicemen in the crowd -- professes admiration for McCain and Palin and believes the election race is far from decided. "I think a lot of people will have to walk into the polling booth to make a decision and hopefully they'll make the right one. It would be terrible if the Democrats were to control the House, the Senate and the Presidency."
Speaking under ominous skies that quickly spill open into a downpour that leaves her soaked but her folksy enthusiasm undimmed -- "By the way, I love this weather because it reminds me of home." -- Palin's message is blunt, unequivocal and ideally pitched to an audience that requires less convincing on policy issues than reassurance that they are still in the game and in with a shouting chance.
"You can do the math or you can go with your gut but you can make your own decision. Barack Obama will take your money and give it to someone else according to his priorities... We're all Joe the Plumber now," she says of Obama's tax plans -- prompting dozens of "I'm Joe the Plumber" signs to be brandished enthusiastically. "You betcha!" she adds with a practised flourish.
"If you're ready to shake up Washington, clean up Wall Street, and if you're ready to get our economy back on track and you want to win the war in Iraq then Virginia we're after your votes... We are the people who will work for you. So, Virginia, will you hire us?"
Maintaining a low key presence among the hockey moms, Obama supporter Eileen Limas, a 43-year-old martial arts instructor from nearby Stafford, is worried. She says she has come down to witness the "Palin phenomenon" at close hand.
"She's not my role model. I don't identify with her. And it scares me because I feel she's not going away -- win or lose," says Limas. "She will go back, she will educate herself on things and re-tool herself and she is going to be around a while. I think she is going to be a substantial political player for the Republicans for a long time to come."
E-mail to a friend