WASHINGTON (CNN) -- Sen. John McCain needs to close the gap by persuading undecided voters to back him, but attacks on Sen. Barack Obama could turn off the very voters he needs to swing his way, a political analyst said Tuesday.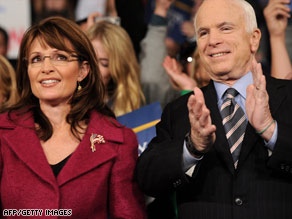 Gov. Sarah Palin and Sen. John McCain campaign in Hershey, Pennsylvania, on Tuesday.
"McCain should go big at the end. But if he wants to win over independents and undecideds, he should not go big by going negative. That's the worst thing he could do," said John Avalon, author of the book "Independent Nation."
With just one week before Election Day, a CNN poll of polls calculated Monday shows Obama leading McCain by 8 points, 51 percent to 43 percent, with 6 percent undecided. A CNN/Opinion Research Corp. poll conducted October 17-19 found a slightly smaller gap -- 52 percent for Obama, 46 percent for McCain -- among independent voters.
Recent polls have consistently showed Obama in the lead, and independent voters may be bothered by the "inevitable" nature that is surrounding the Democratic campaign streak, said Patricia Murphy, editor of citizenjanepolitics.com.

Watch how McCain has an uphill climb »
"Independents are also sometimes late deciders. They are also extremely persuadable at any point during the election," Murphy said. "They don't want to know that this decision has already been made for them, so they'll exercise their power at the polls."
Don't Miss
To draw undecided and independent voters, Murphy said, the McCain camp would be smart to raise doubts about Obama in the final week of the campaign because the race has become a "referendum on Barack Obama."
"If anybody is still undecided, it may be because they just haven't made up their minds about this man," she said.

Watch CNN political editor discuss the final week of campaigning »
But Avalon warns that personal attacks on Obama, such as saying the Democrat is leading the country toward socialism, will not work.
"I think if it's about the economic differences between candidates, that's a positive contrast," he added. "It if goes into silly season by calling Barack Obama a socialist, that's an insult, and it's decisive."
McCain would be better served, Avalon said, by emphasizing the fact that an Obama presidency would put the Democrats in charge of the White House and both branches of Congress.
"McCain should run against unified control. ... Do you really want to turn over the United States government to Harry Reid and Nancy Pelosi and the liberal super majority?" Avalon asked, referring to the Democratic Senate majority leader and the speaker of the House, respectively. "That's a rational case he can make. It's not insulting, and it will appeal to independents and undecideds."
E-mail to a friend

CNN's Scott J. Anderson contributed to this report.
All About U.S. Presidential Election • John McCain • Barack Obama