(CNN) -- State election officials said Monday that early voting already has reached record levels as the presidential campaign enters its final week.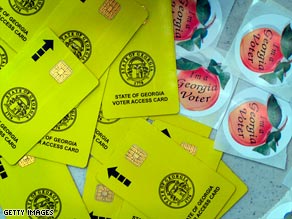 Nearly a fifth of registered voters in Georgia already have cast ballots, an election official says.
As of Monday, 31 states either are allowing voters to vote in person early, and election officials are reporting record turnouts. Voting problems, ranging from computer glitches to long lines, have been reported in a few states.
As of Monday, more than 1 million voters, nearly a fifth of registered voters, already had voted in Georgia, according to Matt Carrothers, a spokesman for Georgia Secretary of State Karen Handel. Four years ago, 422,485 Georgians voted early, Carrothers said.
Most of this year's voters, 85 percent, have voted in person at early voting sites, according to Handel's office.

View early vote counts across the country »
Carrothers attributed the "exponential" growth in early voting to heavy promotion by the secretary of state's office and to the fact that voters no longer need to provide an excuse to vote early or to vote by absentee ballot.
CNN Voter Hotline
If you have a problem voting or see a problem, call the CNN voter hot line at 877-GOCNN08 (1-877-466-2608); CNN will report on some of your calls, and our partner, InfoVoter Technologies, can help you get in touch with your election board or find your voting location.

"The 'no excuse' early voting provides a convenient option," he said. "We're expecting a record number of voting in Georgia. Early voting will ease the pressures on precincts on Election Day." Read about how the early voting numbers suggest a historic turnout may be in store

In North Carolina, which has become a battleground state in the contest between Sens. Barack Obama and John McCain, more than 1.2 million voters already have cast early ballots, representing 20 percent of registered voters, according to the state Board of Elections.

Johnnie McLean, the board's deputy director, said reports of problems with early voting, such as long lines and equipment problems, seem to have subsided this week.

McLean said voters are taking between 15 to 30 minutes to vote if they show up at one of the state's voting centers to fill out an absentee ballot.

"Unless you go at lunchtime or right after work, the lines are not long at all," she said.
Don't Miss
McLean said early voting has been available in North Carolina for decades, but the political parties have started to encourage their supporters to cast ballots early in recent elections.
McLean also said voters no longer have to give a reason why they should need absentee ballots, which has encouraged early voting.
"That just keeps people from having to lie about why they wanted to vote absentee," she said.
McLean said early voting among North Carolina's African-American population has been higher than previous elections, which she attributed to support for Obama.
"There is a great deal of excitement created by both sides, but certainly by the Democratic presidential candidate," she said.
In Florida, more than 1 million people have voted at early voting centers throughout the state, the Florida Department of State said Monday.

Watch as some Florida voters experience long lines »
Jennifer Krell Davis, communication director for the department, predicted that roughly an equal number of Florida voters would vote by absentee ballot.
Krell Davis estimated that nearly a quarter of the state's 10 million registered voters would vote either in person early or by absentee ballot.
"People really want to make sure they have a chance to cast their ballot, and voter interest in high," she said.
In Indiana, the story is much different. Of the 4.5 million registered voters in Indiana, 286,523 voters, about 6 percent had submitted absentee ballots in person or by mail, according to the office of Indiana Secretary of State Todd Rokita.
However, Jim Javin, a Rokita spokesman, said the total number of absentee ballots has already exceeded the number submitted in 2004.
E-mail to a friend

CNN's Scott J. Anderson contributed to this report.
All About John McCain • Barack Obama • Elections and Voting