(CNN) -- Early voting is changing how Americans cast their ballots and how presidential campaigns woo voters.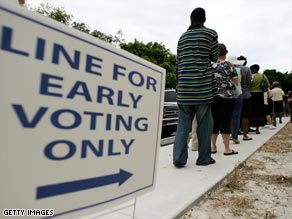 Long lines of early voters have been reported in several states across the country.
Thanks to recent early voting laws in more than 30 states, Sens. Barack Obama and John McCain are already scoring millions of votes well before Election Day.
In many states, voters have been willing to stand in line for hours while waiting to cast ballots. Election officials report significant increases in early voter turnout compared with past contests.
What's changed? Voters say they enjoy the convenience of choosing when they cast their ballots, while campaigns are pressing supporters to get to the polls now instead of Election Day.

See map with early voting statistics »
McCain supporters have set up centers where volunteers call voters to ask them to vote early, and workers canvass neighborhoods and knock on doors, campaign spokesman Tucker Bounds said. "We have an aggressive early voting get-out-the-vote program," he said. "But essentially, our strategy remains focused on Election Day, and we believe we'll win more votes ... on November fourth."
The Obama camp sees the battle for early votes as a fight to win over the undecided -- especially in states where the candidates are running nearly even in the polls such as North Carolina, Colorado and Nevada. "In the other states, we're going to stay communicating with people," campaign official David Plouffe said. Strategists plan to "make sure we hold on to the support we have and fight as hard as we can for these undecided voters."
CNN Voter Hotline
If you have a problem voting or see a problem, call the CNN Voter Hotline at 1-877-GOCNN08 (1-877-462-6608); CNN will report on some of your calls and our partner, InfoVoter Technologies, can help get you in touch with your election board or find your voting location.

But the desire to win over residents of early voter states sometimes puts campaigns in states that don't offer early voting at a disadvantage. "Look, we know that Sen. Obama went to the states that had early voting," said Pennsylvania Democratic Gov. Ed Rendell. "We're one of seven states that don't have any early voting at all. We understand, and they are running a great campaign nationally."

Both McCain and Obama are pushing early voting very hard, CNN political analyst Bill Schneider said. "They're going to have to get to their closing message earlier, because a third of voters are voting early, they're voting now."

Typically, early voters are very committed to their chosen candidates. "They're more often than not strong partisans who know exactly how they're going to vote," he said.

Because some states allow early voting several weeks before Election Day, it's possible that a critical event that would influence voters' opinions -- such as a scandal or so-called October surprise -- could occur after a large number of votes already have been cast.

Such a scenario probably wouldn't matter much, analysts say, because so many early voters are committed supporters of their chosen candidates.

"Probably regardless of what happens in the intervening time between when early voters cast their ballots and Election Day, they probably would vote the same way anyway," said Dan Seligson of electionline.org, a nonpartisan election reform Web site funded by the Pew Charitable Trust.
Don't Miss
Election officials report large increases in the number of early voters this election year, compared with past years. "We're expecting probably 15 percent turnout, at least, this year," said Wisconsin election official Kyle Richmond. Turnout was 12 percent in 2004, he said. This year, "it seems very heavy, especially here in Madison." Early voting reaching record levels
Early voting in Georgia has resulted in a turnout of 18 percent, according to a spokesman from the secretary of state's office. "We're expecting a record number of voting in Georgia," spokesman Matt Carrothers said. "Early voting will ease the pressures on precincts on Election Day."
Early voting is handled differently in every state. But in general, it allows voters to cast ballots in person before Election Day using either voting machines or so-called absentee ballots -- without having to provide an excuse.
Early voting can help simplify each campaign's "very complex and labor intensive end game," Seligson said. "If candidates can figure out who has voted early, then campaigns can more readily target the remaining voters because they're going to be a smaller population."
Obama has been wooing early voters in Indiana, where a Democratic presidential candidate hasn't won in 44 years. "If your car breaks down on Election Day ... if something happens ... you have already cast your ballot -- you'll feel good about yourself," Obama told supporters at a rally last week in Indianapolis. "You'll walk a little taller having voted early."
Online, Obama's Web site lists early voting locations, while Gov. Mitch Daniels, the state's Republican incumbent, is e-mailing a video link that shows how easy it is to vote early.
CNN iReporter Sue Klaus described her early voting experience in Markham, Illinois, as "not too bad" and "worth the time."
"It took about an hour," she said. "Now I don't have to worry about it November 4th, I don't have to go early or go late. I'm done." iReport.com: Are you voting early?
The early voting trend is likely to continue expanding, Seligson said, for no other reason than it eases the burden on state election officials.
"Every absentee ballot you send out is one fewer voter you have to process on Election Day," Seligson said. "Election Day is traditionally the hardest day to get staffing and the hardest to train a one-day work force."
E-mail to a friend

All About John McCain • Barack Obama • Elections and Voting