From Kevin Bohn
CNN

WASHINGTON (CNN) -- Deliberations in the federal corruption trial of U.S. Sen. Ted Stevens are set to resume Monday with an alternate juror after the court lost touch with a panelist whose father died.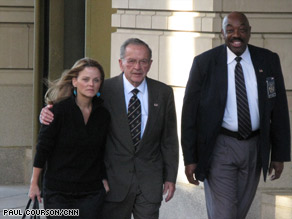 Sen. Ted Stevens leaves the federal courthouse Tuesday evening with his daughter Beth Stevens.
Court officials have been unable to contact juror No. 4, a paralegal in her 40s, who told a U.S. marshal that she had to leave the state for a family emergency after the jury was dismissed Thursday.
U.S. District Judge Emmet Sullivan dismissed the jury Friday morning after the woman left for California, hoping to resume with her on the panel as soon as possible. Since then, court officials have made several unsuccessful attempts to reach the woman, and it was unclear whether she will return to Washington, the judge said.
She had been asked to speak with Sullivan and attorneys in the case in a phone conversation Sunday afternoon, but they couldn't contact her.
"I think we have been more than reasonable" in trying to reach her, Sullivan told the court Sunday, saying the woman chose "not to further communicate with the court."
The trial was scheduled to resume 9 a.m. Monday with a brief vetting of the alternate, followed by deliberations.
Defense attorneys for Stevens, who was in court Sunday, had asked the judge to put off deliberations another day as they awaited the woman's return, arguing against inserting an alternate in the middle of the process.
"They have not been deliberating all that long," Sullivan responded.
Each time someone is added to the jury, deliberations have to begin anew. The jury began deliberations at noon Wednesday.
The 84-year-old senator from Alaska had asked for a speedy trial in the hopes of clearing his name and improving his chances for re-election to a seventh term. He is in a tight race against his Democratic challenger, Mark Begich.
Stevens has pleaded not guilty to seven counts of falsifying Senate financial disclosure forms related to renovations on his family home in Girdwood, Alaska. The remodeling was done by his longtime friend, Bill Allen, and Allen's oil industry services company Veco Corp.
Earlier Thursday, the judge dealt with another juror issue after the panel sent him a note accusing juror No. 9 of "violent outbursts" and other misconduct. They asked that she be dismissed.
"She is being rude, disrespectful and unreasonable. She has had violent outbursts with other jurors, and jurors are getting off course. She is not following the laws and rules as stipulated in the instructions," the jury said in a note to the judge.
However, after what he called a "pep talk" to the 12, Sullivan told jurors to resume their deliberations. Sullivan advised the jurors that their job is to consider all the evidence in an effort to reach a unanimous decision on whether prosecutors proved their case against Stevens beyond a reasonable doubt.
E-mail to a friend

All About Ted Stevens • Alaska