From Kate Bolduan
CNN
WASHINGTON (CNN) -- Sens. Mitch McConnell and Elizabeth Dole are two top Republicans lawmakers who find themselves fighting to hold on to their Senate seats.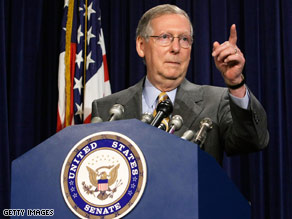 Senate Minority Leader Mitch McConnell is in a competitive race in Kentucky.
They're also two reasons why Democrats are talking 60 -- the number of seats needed to secure filibuster-proof majority in the Senate.
"We are feeling really good that we are going to pick up a successful amount of the larger number of seats and have a successful election. As for 60? It is possible," said New York Sen. Chuck Schumer, who runs campaign operations for the Senate Democrats.
Winning what's commonly called the "magic 60" would maximize the Democrats' ability to push through a Democratic agenda and would virtually prevent Republicans from blocking legislation on the Senate floor.

See a map of the Senate seats in play »
There's been a lot of attention on McConnell's race in Kentucky because he is the Senate minority leader, and he's been re-elected four times. McConnell said this race is tougher than last time because, given his high-profile position, he's a bigger target and "the symbol of the other side."

Watch more on the strategy for the 'magic 60' »
Dole was elected to the Senate in 2002. Her early poll numbers were strong, but the Democratic Senatorial Campaign Committee has spent a lot of money attacking her on two issues -- her effectiveness (or lack of it) in Washington and the little time that she has spent in the state over the past few years, according to The Rothenberg Political Report. Read: Why is Elizabeth Dole vulnerable?
With just days left until the election, Senate Republicans acknowledge they still face a long road ahead.
"It's a tough election atmosphere for Republicans. That's just as honest as I can put it," said Sen. John Ensign, R-Nevada.
Neither party has won such broad power of the Senate for three decades, but this year, Democrats are buoyed by an unpopular Republican president and a struggling economy.
"With every day they get closer. There are races now that are competitive that were not competitive a month ago," said Jennifer Duffy, who tracks Senate races for the non-partisan Cook Political Report.
Of the 35 Senate seats on the line this year, 23 are held by Republicans. Five Republican senators are retiring: Pete Domenici of New Mexico, Wayne Allard of Colorado, John Warner of Virginia, Larry Craig of Idaho and Chuck Hagel of Nebraska.
Duffy predicts Democrats will score a net gain of between seven and nine Republican seats, in states reaching from Oregon to New Hampshire.
Democrats currently control the Senate. Although it's split evenly with 49 Democrats and 49 Republicans, two independents -- Bernie Sanders of Vermont and Joe Lieberman of Connecticut -- caucus with the Democrats.
If the Democrats pick up nine seats, it would push them over the top.
"I think 60 is a psychological number. It would strike a psychological blow to Republicans. They may not need that many to get their legislative agenda through," Duffy said.
Both Senate campaign committees are running ads using the "magic number." Democrats use it as a goal to push for, while Republicans use it as something to be afraid of.
In an ad for Democrat Al Franken, who is running in Minnesota, Sen. Hillary Clinton says, "Al Franken could very well be that 60th vote."
The National Republican Senatorial Committee uses the number in an ad against Dole's challenger, Democrat Kay Hagan.
"These liberals want complete control of government in a time of crisis -- all branches of government," the announcer says in the ad. "If she wins, they get a blank check."
Larry Sabato, director of the Center for Politics at the University of Virginia, said Democrats have a good shot at reaching a 60-seat majority in November, a possibility he all but ruled out earlier this year.
"The fundamentals of this election year could not be more Democratic," Sabato said. "You've got a terrible economy, a deeply unpopular president and an unpopular war. You put those elements together and it's going to produce a Democratic victory. ... The only question is, what size?"
E-mail to a friend

CNN's Emily Sherman contributed to this report.
All About Mitch McConnell • Elizabeth Dole