By John King
CNN Chief National Correspondent

CHARLOTTE, North Carolina (CNN) -- The Rev. Loran Livingston can see the stress in their faces and hears the dilemma in their questions as Election Day draws near.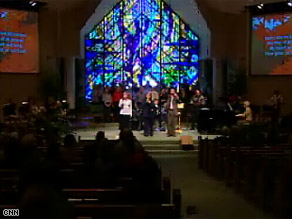 Some evangelical Christians in North Carolina say they are reluctant to support John McCain for president.
"You have Wachovia, gas prices, the financial situation -- people ask questions," the pastor of Charlotte's Central Church of God told CNN during a visit this week. "They are not desperate; they are not hopeless questions. They just say, 'Where are we?' "
And at times, some might confess a conflict, seeing one candidate as perhaps better suited to handle those pocketbook concerns and another more in line with their views on abortion and same-sex marriage.
Livingston steers clear of endorsing specific candidates but says he is clear with congregants on the issues he believes should take priority.
"Economics change," he said. "But how God feels about life and marriage never changes. So I tell them, 'Find the candidate whose philosophy lines up most with the Scripture, pray a lot, and vote your heart.' "
Far more often than not, here in North Carolina and nationally, the choice of evangelicals is John McCain. But it is often a somewhat reluctant choice.
Don't Miss
John and Barbara Ayers were Mitt Romney fans during the Republican primaries and, while lukewarm to McCain at times, say they will cast their ballots for the Republican candidate.
"We are Bible-believing evangelicals," John Ayers explained during a visit to their Charlotte-area home. "We see the results in our lifetime of the erosion of our morals."
A recent ABC/Washington Post poll showed McCain leading 72 percent to 23 percent nationally over Democrat Barack Obama among white evangelicals.

Watch voters discuss their trust in the polls »
Healthy, but not quite the level of support President Bush enjoyed four years ago. Then, evangelicals made up 23 percent of the vote nationwide and, according to exit polls, broke 78 percent for Bush and 21 percent for Democrat John Kerry.
McCain can ill afford to get a smaller slice of the evangelical vote, which is pivotal to Republican chances and critical in a half-dozen states he must win: North Carolina, Virginia, Georgia, Ohio, Missouri and Indiana. Interactive: CNN Electoral Calculator
But Livingston isn't sure McCain can count on matching Bush's numbers.
"To put it in a nutshell, I think this time, conservative evangelicals are less enthusiastic about the choice than they have been in the past."
That is precisely how John and Barbara Ayers see it.
"John McCain, for sure," Barbara said when asked to pick a candidate. "And the reason is, I don't trust Obama at all. ... I really think he is going to bring socialism if he has the chance."
"It is definitely the lesser of two evils," John Ayers said. "Look at it this way: What has Obama ever done?"
McCain's voting record is largely in line with evangelical concerns, but he has feuded with Christian conservative leaders in the past and, unlike Bush, rarely talks openly or specifically about his faith.

Watch more on the fight for North Carolina »
"I understand his reluctance," John Ayers said. "I think, though, that most of us as evangelical Christians would say that perhaps he has not declared himself as much as we would like to see."
Ayers also agrees with some evangelical leaders that there is an an emerging generational split.
"There are what we old geezers refer to as 'yuppy duppies': two, three kids and all that," he said. "When a conversation of mixed ages transpires in the past few months, it is almost normal I notice now for young couples to say very little, and that tells me ... well, that tells me more than I want to know."
The younger churchgoers don't often declare support for Obama, but "I just sense it," John Ayers said.
At that point, Barbara Ayers smiles and laughs but then frowns.
"We have a grandson who is going to vote for Obama," Barbara Ayers said. "It discourages me."
E-mail to a friend

All About Religion • John McCain • Barack Obama