By Campbell Brown
CNN
Editor's note: Campbell Brown anchors CNN's "Campbell Brown: No Bias, No Bull" at 8 p.m. ET Mondays through Fridays. She delivered this commentary during the "Cutting through the Bull" segment of Friday night's broadcast.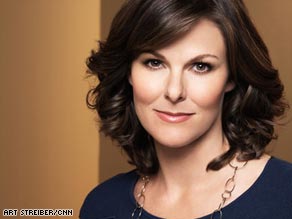 Campbell Brown says the 'late-filing' excuse insults those who suffer from depression.
(CNN) -- There's a story getting a ton of attention here in New York and we thought we would share it with the rest of the country tonight.
It is perhaps the most creative, most ridiculous and yes, most "full of bull" excuse for not paying taxes that I have ever heard. The governor of New York, well, his chief of staff, is a man by the name of Charles O'Byrne.
Mr. O'Byrne went to an Ivy League school. He makes about $100,000 a year. And for five years he didn't pay taxes or bother to file returns. When he got busted, he initially blamed his lapse on depression, but now his lawyer has come forward and offered more specifics. The lawyer says Mr. O'Byrne has late-filing syndrome.
What? You've never heard of late-filing syndrome? Well, again, according to Mr. O'Byrne's lawyer, it is a condition that made it difficult for him to fill out his tax returns. He just couldn't quite bring himself to undertake the task.
'No bias, no bull'
Get the latest on the presidential race on "Campbell Brown: No Bias, No Bull"
8 ET Monday through Friday on CNN

Now, according to The New York Times: "late-filing syndrome, sometimes known as non-filing syndrome or failure-to-file syndrome, is not listed in the diagnostic and statistical manual of mental disorders."
I know you are shocked. The paper goes on, "a spokeswoman for the American Psychiatric Association said that the group does not recognize it as a psychiatric condition." Important information for those of you who may have been inspired by his defense.
Don't Miss
Seriously though, Charles O'Byrne may have in fact suffered from depression. But his ridiculous, full of bull defense totally makes light of a very real disease that 17 million Americans suffer from each year.
So, note to this loony lawyer: You have come up with a truly lame excuse for a politician in the hot seat. And to all those suffering from late-filing syndrome -- get a grip.
E-mail to a friend

All About Income Taxes • Tax Law