By Elaine Quijano
CNN White House Correspondent

WASHINGTON (CNN) -- Of 46 Republican fundraisers President Bush has attended this year, just four have been open to the media, and the president's 27 percent approval rating may explain why.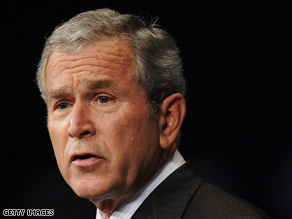 President Bush has largely stayed away from the campaign trail this year.
This low approval rating and the fact that 75 percent of Americans say they feel bad about how things are going in the country offer insight into why Bush is staying out of sight on the campaign trail.
"When you are looking at an approval rating of 27 percent, that's not necessarily the wagon you want to hitch yourself to," says Mark Preston, CNN's political editor.
Bush's approval rating was 27 percent in a CNN/Opinion Research Corp. poll released Tuesday.
The president, or more precisely, his policies, have been a constant presence in the 2008 campaign, with Sen. Barack Obama and other Democrats trying to link their Republican opponents to the Bush administration.
Seventy-five percent of those surveyed in the same opinion poll also said they were angry about the way things were going in the country today.
Sen. John McCain, whom Bush endorsed in a highly choreographed event March 5 at the White House, has tried to distance himself.
Since that endorsement, Bush has attended four fundraisers for McCain, all of them closed to the media, and the senator from Arizona has appeared in public with the president only a couple of times -- the first on May 27 after a fundraiser in Phoenix, Arizona.

Watch more on Bush's presence in the 2008 race »
Reporters caught a glimpse of the two together after they shared a limousine ride to the Phoenix airport and shook hands on the tarmac before Bush boarded Air Force One.
The second appearance happened months later, on September 25, at a White House summit on the financial crisis with congressional leaders and the presidential candidates.
McCain and Obama were at opposite ends of a long conference table in the Cabinet room, several seats down from Bush, who sat at the center. That seating arrangement ensured there would be no images of either candidate sitting shoulder to shoulder with the president -- images that might later be used in campaign ads. Instead, Bush was flanked by both Republican and Democratic congressional leaders.
"You have an unpopular war right now with the Iraq war, and you have a financial crisis at this point and ... John McCain is trying his best to distance himself from the Bush administration and certainly from the policies of the last eight years," Preston said.
McCain recently has stepped up those efforts, including a new ad in which the GOP presidential candidate tells voters, "The last eight years haven't worked very well, have they? I'll make the next four better."
McCain also blasted Bush's policies in an interview Wednesday with The Washington Times. In response to a question about "what things have not gone well" under the Bush administration, the candidate recounted a host of issues:
"Spending, the conduct of the war in Iraq for years, growth in the size of government, larger than any time since the Great Society, laying a $10 trillion debt on future generations of America, owing $500 billion to China, obviously, failure to both enforce and modernize the [financial] regulatory agencies that were designed for the 1930s and certainly not for the 21st century, failure to address the issue of climate change seriously," McCain said.
And during the final presidential debate last week, McCain had the line of the night, according to many pundits, when he said, "Sen. Obama, I am not President Bush. If you wanted to run against President Bush, you should have run four years ago." He added, "I will take this country in a new direction."
That kind of political rhetoric may sting, but it's not a surprise to Bush, who pledged to stay out of the way if necessary.
"Look ... if my showing up and endorsing him helps him, or if I'm against him and it helps him -- either way, I want him to win," Bush said as he stood next to McCain in March in the Rose Garden. "You know, look, this is an age-old question that you -- every president has had to answer, and there's an appropriate amount of campaigning for me to do."
One way that seemed appropriate then was enlisting the president's help in rallying crucial members of the GOP base behind McCain.
"President Bush does have a poor approval rating right now, ... but he's still well liked by really conservative Republicans," Preston said.
McCain's vice presidential pick, Alaska Gov. Sarah Palin, now fills that role, Preston said.
"Sarah Palin is the bridge now to the base Republican voters, voters who might not have been energized by the McCain candidacy," he said.
"So when you see him go off and criticize President Bush as we have recently in the past week in The Washington Times, he still has Sarah Palin to be the bridge to the Republican base. A base that has not always supported him," Preston added.
As Election Day approaches and the anti-Bush rhetoric continues on the campaign trail, the president's aides are doing their best to stay out of the fight. But that means loyal staffers must sometimes allow sharp criticisms to go unanswered.
At a briefing Thursday, White House press secretary Dana Perino was asked for reaction to McCain's criticism in The Washington Times.
"I'm not going to comment on the words that our candidate chooses to use," Perino said. "All I'll say is that the president stands by his policies. He also stands by John McCain."
A reporter then asked, "Does Bush take it personally at all?"
"No," Perino said, smiling and shaking her head. "He doesn't."
E-mail to a friend

All About George W. Bush • John McCain • Barack Obama