By Emily Sherman
CNN
WASHINGTON (CNN) -- Experts call it the "forgotten issue," or even the "ignored issue" -- Social Security.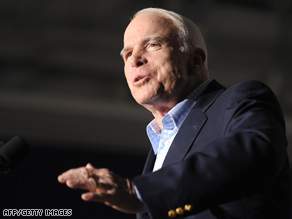 Sen. John McCain's campaign says he is committed to revamping the Social Security system.
Sens. John McCain and Barack Obama have spent ample time addressing the budget crisis, but haven't zeroed in on the growing concerns over Social Security.
Maya MacGuineas, president of the Committee for a Responsible Federal Budget, says it's not an accident that McCain and Obama have skirted the issue.
"I think both Obama and McCain ended up thinking talking about fixing [Social Security] was a political loser," MacGuineas said. "So they were just happy letting the issue disappear."
The Obama campaign disagrees with that assertion.
"We have talked about it quite extensively both at our events and in our paid media, as well as in terms of policy," Obama campaign spokesman Hari Sevugan said.
"There is a real difference in the approach that Sen. Obama would take in ensuring the long-term health of Social Security. The primary difference being that Sen. Obama wouldn't risk Social Security savings to the whims of the stock market like John McCain would," said Sevugan.
The McCain campaign's Web site says the Arizona senator is committed to revamping the system:
"John McCain will fight to save the future of Social Security and believes that we may meet our obligations to the retirees of today and the future without raising taxes. John McCain will reach across the aisle, but if the Democrats do not act, he will. No problem is in more need of honesty than the looming financial challenges of entitlement programs."
Don't Miss
According to U.S. Budget Watch, Social Security accounted for almost 25 percent of the federal budget in 2007, making it the single largest government expenditure. The group estimated it cost $585 billion last year, catering to roughly 50 million retirees and disabled workers.
In comparison, the Department of Defense estimated it spent $493.3 billion last year, while Department of Transportation estimated it spent $12.1 billion.
For 2009, the government will increase Social Security by 5.8 percent for a cost of living adjustment.
The changes, expected to affect more than 55 million Americans, amount to the largest increase since 1982, when Alan Greenspan, then chairman of the National Commission on Social Security Reform, conducted an investigation into the potential for long-term bankruptcy of Social Security.
If Greenspan was looking to make urgent changes in 1982, how close is the United States in 2008 to losing its Social Security system?
Although there are conflicting opinions -- some argue the U.S. won't need to worry until 2040, others say it will happen within the next decade -- the consensus seems to be that the Social Security system is in serious trouble.
In the March issue of Fortune magazine, senior editor at large Allan Sloan wrote that people need to start worrying now.
"Social Security's negative cash flow becomes so horrendous -- hundreds of billions of dollars a year -- that our nation's 20- and 30- somethings aren't going to let the government cover it, regardless of how many Treasuries the trust fund holds. So forget about 2039 or whenever. Starting worrying about 2016 or 2017," Sloan wrote.
MacGuineas agreed that there will be a budget pinch in a decade.
"Social Security will not run out of money. But starting in 2017, the government will have to raise taxes, cut spending or borrow to make good on promises run through the trust funds," said MacGuineas. "This will put a real squeeze on the rest of the budget. In 2041, benefits would have to be cut dramatically, but no one seriously suggests waiting to make changes until then, so that we can phase them in more gradually."
According to the bipartisan U.S. Budget Watch "Guide to Social Security in the 2008 Presidential Election," Social Security has been mentioned in the candidates' speeches 10 percent of the time, while "change" and "health care" are brought up 60 to 75 percent of the time.
When the candidates do address the issue, they are far apart.
McCain says all "things [are] on the table" when it comes to Social Security.
He would push for supplementing Social Security with individual investment accounts, and has said he would consider cutting benefits and raising the retirement age from 67 to 68.
"I'm against tax increases. I'm against a lot of the bad things that a lot of the people support," McCain told CNN's Wolf Blitzer on Wednesday. "I feel very strongly that I'll sit down with the Democrats and we'll negotiate out something that will save Social Security, because that's our obligation to future generations of Americans"
Obama opposes privatizing Social Security, believing the way to fix the system is by strengthening the payroll tax system. He is opposed to raising the retirement age.
"John McCain wants to pick up where George Bush left off, by trying again to privatize Social Security," Obama told a crowd in Raleigh, North Carolina, in June. "We will not privatize Social Security, we will not raise the retirement age and we will save Social Security for future generations by asking the wealthiest Americans to pay their fair share."
Richard Kaplan, a Social Security expert and professor of law at the University of Illinois, agreed with MacGuineas that the candidates are ignoring the subject.
"I think it's a deliberate strategic choice to not talk about it," Kaplan said. "I guess they made the decision that this is not going to increase turnout, it is not going to change people's vote." He said with limited time and attention spans, "you focus on the issues you think will make a difference."
Kaplan, who specializes in income taxation and elder law, argues McCain in particular is being wise in avoiding the subject and learning from the mistakes made by President Bush.
At the beginning of his second term in 2005, President Bush attempted to revamp Social Security.
Under his plan, personal retirement accounts would be implemented gradually, allowing younger workers the option to build a "nest egg" for retirement. If younger workers opted for an individual program, Social Security benefits would decrease depending on the amount of individual input.
Democrats argued adopting Bush's proposal would force the government to borrow $5 trillion dollars to allow the system to pay the current retirees over the next 20 years.
The next president will have to find solutions.
"In many ways, you actually have to feel very sorry for the person who is going to move into the White House this January," MacGuineas said. "They have a really tough battle ahead of them."
"They are going to have to come to terms with the fact that they made a lot of promises during a campaign that we're not going to be able to afford to pay...[but] it's critical that we fix these problems sooner rather than later."
E-mail to a friend

All About Social Security Administration