(CNN) -- Pennsylvania's Democratic governor, Ed Rendell, is leading a final push to win votes in his state for his party's presidential nominee, Sen. Barack Obama.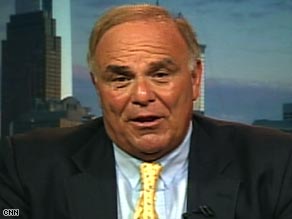 Gov. Ed Rendell says he wants to deliver Pennsylvania for Democrat Barack Obama.
Obama has a double-digit lead in some polls in Pennsylvania, a state both Obama and Republican nominee John McCain see as essential to winning the White House. Rendell is urging Obama to continue making campaign appearances there.
Rendell talked about the race Thursday on CNN's "American Morning."
CNN: There are some polls that show Barack Obama with a 13-point lead in your state. Yet you said you're nervous about Pennsylvania, urging Obama to return there and do some campaigning. What are your concerns 12 days out?

Watch McCain and Obama turn up the heat »
Rendell: Number one, [Obama's lead in different polls goes] from a low of five to a high of 13. Who knows which is right? That's number one.
Number two, Sen. McCain and [Alaska Gov. Sarah] Palin have literally camped out here. They are helping the Pennsylvania economy tremendously by coming in with all you media folks, certainly helping our drink tax if nothing else. They are here all the time. They are here all the time. And people are beginning to notice that.
Look, we know that Sen. Obama went to the states that had early voting. We're one of seven states that don't have any early voting at all. We understand, and they are running a great campaign nationally.
Don't Miss
Of course you're always nervous. This is a key state. I want to deliver for Sen. Obama. I've grown to think he's going to be a tremendous leader for this country, and we don't want to take any chances.
And he's so popular when he comes in, he turns undecided voters who listen to him, listen to his economic plan, and we want to nail this thing down. We're always nervous.
CNN: Congressman John Murtha recently got in hot water for saying parts of your state have a history of "redneck" attitudes. Could parts of Pennsylvania be vulnerable to not voting for Obama, choosing McCain because of race?
Rendell: I think race, if it is a factor at all, is trumped by the bad economy. People are scared. They are worried about their pocketbook, their budget and they are looking for someone who will give them help.
If you're a senior citizen, I don't care what your views are, when you hear that John McCain wants to take money out of Medicare -- over a trillion dollars to help finance his health plan, which means benefits would be cut and premiums would go up -- you're going to vote on that, you're not going to vote on any other factor. If you've lost your job or lost your health care, you're looking for someone who has the best plan.
I think Pennsylvanians, like others across the country, have been reassured over these last five or six weeks that Barack Obama knows what he's doing and has good ideas, and that John McCain really, as he said himself, doesn't know anything about the economy.
CNN: We have run a fact check on that Medicare point, and McCain said he's not taking money away from seniors that are currently getting Medicare. He says that's not happening.
Rendell: It's certainly going to happen to people like me, seniors-to-be. There's no question about that. His health plan is a bad idea to begin with.
And what about privatizing Social Security? Seniors have to worry about that and people, again, who are looking at becoming seniors have to worry about that. And that trumps any concern about ethnic background or where you are from or where you went to school.
People are really worried right now and they are concentrating on real issues, and when they concentrate on real issues we win.
CNN: Obama's running mate, Sen. Joe Biden, said Obama was likely to be tested by an international crisis early in his administration. What do you make of Biden's remarks and are they a distraction to the Obama campaign?
Rendell: Again, I think everyone is focusing on taking certain things out of context. What Joe Biden did is he set up a problem -- and it's true the next administration, whether it's McCain or Obama, will be tested early -- and then he said -- and you all are leaving it out -- Barack Obama is ready, he's got a spine of steel.
And by the way, the American people can make that judgment themselves. They've seen three debates now. They've seen Barack Obama tested on foreign policy questions.
I think they've concluded he's smart, he's knowledgeable, he's poised, calm and collected. He doesn't fly off the handle, he doesn't get angry, he gets the facts right. I think he's the type of leader we need, and I think most Americans have concluded that.
E-mail to a friend

All About Edward Rendell • Pennsylvania • U.S. Presidential Election