By Campbell Brown
CNN
Editor's note: Campbell Brown anchors CNN's "Campbell Brown: No Bias, No Bull" at 8 p.m. ET Mondays through Fridays. She delivered this commentary during the "Cutting through the Bull" segment of Thursday night's broadcast.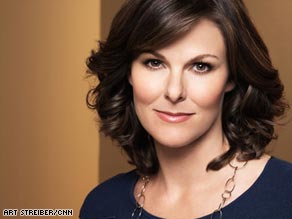 Campbell Brown says the short version of Schwarzenegger's quote may give wrong impression.
(CNN) -- Wednesday, I sat down with California Gov. Arnold Schwarzenegger for a lengthy interview mostly about the presidential campaign.
One exchange in particular has been getting a lot of attention. It was when I asked the governor if he thought Republican vice presidential candidate Sarah Palin was qualified to be president.
Now, a quick nod to transparency here. When we do interviews like this, due to the time constraints of television, we often edit down a portion of the interviewee's remarks.
But we try to make sure we maintain the full context of what was said, so that there is nothing misleading about a given sound bite.
There is a shortened portion of the governor's remarks about Sarah Palin circulating on the Internet and other TV outlets that leaves the impression he does not think she is qualified for the job.
Right now, I just want to show you the governor's full answer, so you can decide for yourself exactly what he meant.
'No bias, no bull'
Get the latest on the presidential race on "Campbell Brown: No Bias, No Bull"
8 ET Monday through Friday on CNN

Brown: Do you think she is qualified to be vice president?
Schwarzenegger: I think that she will get to be qualified.
Brown: She will get there? What do you mean? She's not ready yet?
Schwarzenegger: She will be ready by the time she is sworn in. I think she will be ready. You get up to speed.
I know when I became governor there were a lot of things I did not know but it is not about what you know.
Because Sacramento, for instance, in 2003 had all the knowledge and has all the experience, warehouse full of experience, but there was not the will for both of the parties to work together and solve the problems.
So that's not the only answer, the experience. The answer is, do you have the will? Do you have the will to educate yourself? Do you have the will to get up to speed? Do you have the will? Are you a sponge that absorbs information very quickly? And I have read some of her stuff and she said, 'When I became governor, you know, I didn't know a lot of things but I absorbed information quickly and they could run with the state.' And that's the kind of person that she is. That is what I think she would also do if she becomes vice president.
E-mail to a friend

All About Sarah Palin • Arnold Schwarzenegger