(CNN) -- Sen. Barack Obama said Wednesday that the country needs a leader who "understands the connection between our economy and our strength in the world."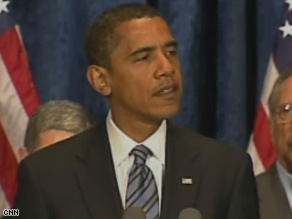 Sen. Barack Obama says he is the best candidate to handle national security and economic issues.
"We often hear about two debates -- one on national security and one on the economy -- but that's a false distinction.
"We can't afford another president who ignores the fundamentals of our economy while running up record deficits to fight a war without end in Iraq," he told reporters following a meeting on national security policy.
Obama charged that Sen. John McCain would continue "the policies that have put our economy into crisis and, I believe, endangered our national security."
Obama downplayed remarks from Sen. Joe Biden, who said this weekend that there could be an "international crisis" to test Obama.
"I think that Joe sometimes engages in rhetorical flourishes but I think that his core point was that the next administration is going to be tested regardless of who it is," Obama said.
McCain's campaign said Obama was trying to "reduce Sen. Biden's predictions."
"Judgment to lead? It's not leadership for Barack Obama to promise to be straight with Americans, only to dismiss serious statements and concern from his own running mate as simple 'rhetorical flourishes,'" spokesman Tucker Bounds said in a statement.
Obama's remarks come as the Democrat holds a sizeable lead over McCain, according to CNN's latest average of national polls. He is ahead of McCain by seven points -- 50 percent to 43 percent.

Watch more on the state of the race »
McCain on Wednesday urged voters in New Hampshire to help him make a comeback.
"I know that I can count on you again to come from behind, to again come from behind and take a victory and bring it all the way to Washington," McCain said in Manchester. "I am asking you to come out one more time. Get out the vote. Get them out and we'll win."
McCain's win in New Hampshire's primary marked a resurgence for his campaign back in January.
Don't Miss
"The people of New Hampshire make their own decisions, and more than once they've ignored the polls and the pundits, and brought me across the finish line first," he said.
Obama told voters Tuesday that McCain is "running out of time" and as a result has taken to "making stuff up" on Obama's record and tax cut plan.
As McCain tries to regain his footing, he's been hammering away at the now highly publicized remarks Obama made to a man since dubbed "Joe the plumber."
Earlier this month, Joe Wurzelbacher unintentionally stepped onto the political scene when Obama was canvassing for support in Holland, Ohio.
Wurzelbacher asked Obama if he believed in the American Dream. He said he was about to buy a company that makes more than $250,000 a year and was concerned that Obama would tax him more because of it.
Obama explained his tax plan in depth, saying it's better to lower taxes for Americans who make less money so that they could afford to buy from his business.
"I think that when you spread the wealth around, it's good for everybody," Obama told Wurzelbacher.
Obama told voters Tuesday night that McCain has "decided to make up, just fabricate this notion that I've been attacking Joe the plumber."
"Now, let me tell you something. Even just yesterday, Joe the plumber himself said that wasn't true. I've got nothing but love for Joe the plumber. That's why I want to give him a tax cut," he said at a rally in Miami, Florida.
"Apparently Sen. McCain decided that if he can't beat our ideas, then he's just going to make up some ideas and run against those."
Obama said McCain has been on the attack instead of talking about the issues.
"That's what you do when you're out of ideas, when you're out of touch, and you're running out of time," he said.
McCain's campaign on Wednesday launched an ad that continues the Joe the plumber line.
The ad focuses on small business owners who express concern that their businesses would struggle under Obama's tax plan.
"Barack Obama: higher taxes, more spending, not ready," the announcer says in the 30-second spot. Fact check: Obama and small businesses
Meanwhile, with limited time left on the campaign trail, the candidates are spending their final days in the most contested states.
Obama on Wednesday was holding rallies in Richmond and Leesburg, Virginia. Virginia has not voted for a Democratic presidential candidate in more than 40 years, but polls show Obama leading there.
Biden was continuing his two-day swing through Colorado, with stops scheduled in Colorado Springs and Pueblo.
On the Republican side, Sen. John McCain was heading to Ohio following his event in New Hampshire.
He was then expected to join Gov. Sarah Palin for rallies in Green and Cincinnati, Ohio. No Republican candidate has ever won the White House without also winning Ohio.
According to CNN's average of Ohio polls, Obama leads by 3 percentage points there.
The national poll of polls consists of 11 surveys: American Research Group (October 18-20), Franklin & Marshall (October 13-19), IPSOS-McClatchy (October 16-20), Fox/Opinion Dynamics (October 20-21), AP/GfK (October 16-20), Pew (October 16-19), CNN/ORC (October 17-19), ABC/Washington Post (October 16-19), Reuters/C-SPAN/Zogby (October 18-20), Gallup (October 18-20) and Diageo/Hotline (October 18-20). It does not have a sampling error.
E-mail to a friend

CNN's Sasha Johnson contributed to this report.
All About U.S. Presidential Election