(CNN) -- Former Secretary of State Colin Powell's decision to cross party lines and endorse Sen. Barack Obama has many iReporters asking why he would do it and wondering how it will influence the final days of the presidential campaign.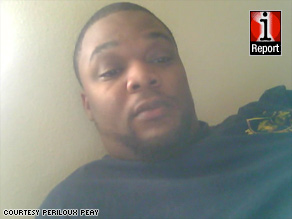 iReporter Periloux Peay says Powell's endorsement could be a turning point in the campaign.
Periloux Peay, of Beaumont, Texas, said the endorsement was a turning point for the Obama campaign.
"It shakes the Republican base, it does, because this is the most well-known African-American Republican in the country, one of the most well-respected members of the GOP in the country, regardless of race," Peay said. "He has now shown that in his eyes that another Republican regime would not fit the bill for the troubles that we have to face."
Powell's experience as secretary of state and as chairman of the Joint Chiefs of Staff also helps shore up Obama's foreign policy and military credentials, the 24-year-old substitute teacher said.
The endorsement also comes at a time when McCain's campaign is struggling, he said.
"[McCain] is shying away from the issues that are plaguing the country," Peay said. "He's just now getting on the economy about the whole 'Joe the plumber' deal. A lot of people that I've talked to feel that the character issue is something that doesn't need to be talked about as much as the economy." iReport.com: Watch Peay discuss the bad weekend he feels McCain had
Jeany Rush of Colorado Springs, Colorado, said she feels Powell was misguided. She also wonders why such a prominent military man would support a candidate with no military experience.
She says national security is a top priority and she cannot see Obama performing as well in this arena. Race isn't the issue, but rather politics, she said. iReport.com: Watch Rush describe why she feels Powell jumped for Obama
"He obviously thought McCain was going negative," Rush said about Powell. But, she continued, "All those connections [in the ads], they do exist and the depths of them have only been reported on one or two channels."
Rush said she feels her life is in better hands with McCain than with Obama, but also says she can understand how Powell feels. Obama presents a more polished image while McCain is her "scrappy little hero," Rush said.
"I'm not surprised that [Powell] endorsed Sen. Obama and I'm not mad," Rush said.
But some iReporters called the endorsement a betrayal.
"I am so saddened by Colin Powell endorsing Obama. I have always had so much respect for Powell. How can [a] man turn against everything he ever stood for?" wrote KCRep, of Fullerton, California. "Where did the Colin Powell I admired go?"
On the other hand, Jordan Sarver of Athens, Georgia, says he feels Powell made a smart policy decision, and feels the move was not related to race. iReport.com: Watch Sarver explain why Powell should support Obama
"Give me a decorated general over an unlicensed plumber any day," said Sarver of the oft-referenced "Joe the plumber" from the third debate. "Logic is why Powell endorses Obama, not race."
iReport.com user cmm agrees with Sarver, saying that she feels Powell had several good reasons for supporting Obama. iReport.com: Read cmm's theories for why Powell went with Obama
"Mr. Powell enumerated the same concerns that many Americans have voiced publicly and privately," she said.
The reasons she gave were campaign style, the choice of Alaska Gov. Sarah Palin for running mate, debate performance, and uncertainty over whether Palin is fit to serve as president should McCain's health decline.
"We don't care if the president is purple," said cmm, an Obama supporter. "The question is: Can he lead America back to prominence?"
E-mail to a friend