By Sean Callebs
CNN Correspondent
CNN goes behind the scenes on the campaign trail during the 2008 presidential election.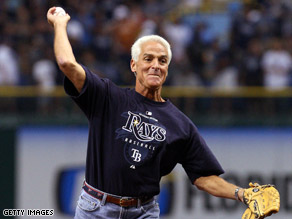 Florida Gov. Charlie Crist, here at a baseball playoff game last week, is making a pitch for Sen. John McCain.
MELBOURNE, Florida (CNN) -- Call it travels with Charlie.
We spent much of Monday crisscrossing Florida with the state's popular Republican governor, Charlie Crist, while he campaigned for Sen. John McCain and Alaska Gov. Sarah Palin.
I had the chance to talk to Crist for about an hour on arguably the most important jewel up for grabs in two weeks -- Florida and its 27 electoral votes.
Crist is keenly aware the stakes here couldn't be higher. The governor says he's puzzled by news reports that allege a rift between him and McCain. Crist also has been accused of not doing enough for the GOP presidential ticket.
"It's all hands on deck. I am committed to doing everything I can to help him win," Crist said aboard a charter jet that ferried him and his entourage around the state.

Watch what's at stake for McCain in Florida »
"I think it's important to our country," Crist said, adding, "He's my friend."
Crist took a moment to say how much he likes CNN -- especially Wolf Blitzer. "You know Wolf's mom lives in South Florida," he said. I didn't. Now I do. Not sure what to do with that nugget, but I'll drop in on Wolf at some point.
I asked Crist what happened to McCain's summertime lead in the polls in Florida.
Don't Miss
It's not that Sen. Barack Obama has about 450 campaign workers here, compared with 100 for McCain. Or the fact that Obama is outspending McCain 3-to-1. Plain and simple, it's the economy, Crist said.
"McCain's got to stay on topic and talk about how he'll improve the economy," he said.
Like many states around the country, Florida is feeling a harsh bite -- unemployment is up, construction is drying up.
"We have nearly 20 million people here, 12 million voters," he said. "When things aren't going well, voters tend to blame the political party in charge, and there's no mistaking it: Republicans run Florida."
For those who haven't been on one of these mini-marathon swings, it's amazing how fluid and well-coordinated they seem. At each stop -- Sarasota, West Palm Beach, Melbourne and finally Tallahassee -- Crist and other party faithful repeat the same speech nearly word for word with unbridled enthusiasm.
Crist is a consummate politician, moving effortlessly through crowds. Who knows -- if things would have played out differently, maybe Crist, Louisiana Gov. Bobby Jindal or former Massachusetts Gov. Mitt Romney would be sharing the ticket with McCain.
Remember this summer when McCain invited them all to his Arizona ranch? There was widespread speculation that it was a beauty contest of sorts -- that perhaps McCain wanted to see who, if anyone, would be a good vice presidential fit. Crist says he never got the impression they were being judged.
"To me, it was like a holiday Southwest barbecue," he said.
I asked Crist if he thought Palin was going to lure undecided voters to the ticket.
"I think we both know the answer to that," he said. "But there's no question she fired up the base."
Florida's most eligible bachelor is getting married in December. His fiancée, Carole Rome, traveled from city to city with the governor, with Crist announcing, "Today's her birthday."
She was snacking on a cookie from the Gun Club Cafe. (Crist turned to an aide and asked, "Is it really called that?")
She said, "I really shouldn't be doing that -- I have a wedding coming up."
"Please," I said. "Not only should you be eating the cookie -- but it should have a candle on top."
The governor did four cities in four hours. There was a healthy turnout on a Monday morning and lots of local news coverage.
We know Crist will have one big reason to celebrate when he weds in December. The question is, will he have a reason to offer a toast before that?
E-mail to a friend

All About Charlie Crist • Florida • John McCain • Sarah Palin