By Rich Phillips and John Zarrella
CNN Senior Producer and Correspondent

PALM BEACH COUNTY, Florida (CNN) -- As Election Day approaches, Brad Merriman does a lot of praying.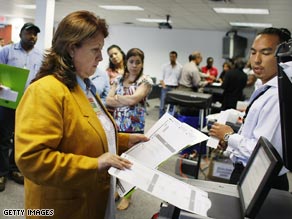 Poll workers in Miami-Dade County, Florida, train on the optical scan voting system.
"Our motto right now is we're gonna plan for a recount and pray that we don't have one," he said jokingly.
Merriman, a county administrator, was brought in to oversee the upcoming general election after a botched judicial election this August in Palm Beach County, Florida.
Eight years ago in Florida, all eyes were on the hanging chad. The chads are gone and so are the ATM-style touch screen voting machines. They've been replaced by voting machines called optical scan, which provide an old-fashioned paper trail, something many critics felt was missing in the event of a recount.
The entire state has switched to the optical scan technology. More than half of the state's 10.75 million voters will use the system for the first time and for most Floridians, this will be the third voting system in eight years, leaving plenty of room for confusion.
Florida Gov. Charlie Crist eliminated the touch screen machines to boost voter confidence, which has been shaken in places like Sarasota, Florida, where 18,000 non-votes were recorded in a 2006 race for a congressional seat.

John Zarrella finds there might still be voting problems »
"Confidence in our system is the oil of the engine of democracy," said Buddy Johnson, who is supervisor of elections in Hillsborough County. "Whatever it takes to secure confidence in the system is worth it."
Confidence was also shaken in Palm Beach County, home to the butterfly ballot in 2000 and synonymous with the presidential recount that resulted in the presidency for George W. Bush. During a recent judicial election, a recount found 3,500 missing ballots. iReport.com: Are you voting early? Share your story
"They weren't lost. They were in the warehouse. They just were never counted," Merriman said.
'American Morning'
All this week CNN's "American Morning" examines the potential voting problems in key battleground states in the special series, "Count the Vote."
Weekdays, 6 a.m. ET

Merriman said he found an office staff that was disorganized and unfamiliar with the recount process. The ballots were put in the wrong box, he said. Merriman said the office is doing a better job of ballot control and ballot management.
"We're treating these paper ballots like they're evidence. There has to be a good chain of custody," said Merriman.
Palm Beach County is one of 15 counties using the system for the first time. In Palm Beach County alone, the potential landmines are everywhere: 700,000 voters have never used the system, the ballot is two pages long and this will be the first time many of the poll workers have used the new system.
Floridians will mark their vote for president and other offices with a pen, by filling in an oval or by connecting a line on a paper ballot. The machines then use optical scanners to read the paper ballots, which are retained for verification purposes in the event of any problems.
Elections staff must be trained on the new voting system. So do the thousands of Election Day temporary workers and volunteers who will staff thousands of polling locations across the state.
"It's a familiarization process that really makes it -- I wouldn't say difficult -- but it makes it so very important," said Johnson.
CNN recently visited a poll worker training session in Tampa, Florida, where elections official Rich Cervetti tutored a class of eight, including one poll watcher from the Democratic Party.
Cervetti schooled his class on how the optical scan system works and some of the things that will undoubtedly pop up on Election Day, including miss-marked ballots by voters.
Don't Miss
"It's looking inside the oval out," explained Cervetti. "If it doesn't see anything, a blank space, even though the voter circled, it's a blank ballot."
Retiree Nancy Bailey, who will work the polls on Election Day, says she wants to get it right.
"They called us 'Flori-duh.' And, I think we need to be represented better than that," said Bailey.
She said her training is good and thinks the system works well, but she's feeling the pressure to make sure things go smoothly.
"I'm a little nervous about this election, because I think it's going to be a huge, huge major turnout and I want it to go well 'cause we don't want Florida in the news again," Bailey said with a laugh.
Voting education is not limited to poll workers -- it's needed for the general public as well.
The state is spending millions of dollars to educate the public. Elections supervisors statewide are broadcasting public service announcements, distributing DVDs and offering community outreach classes on how to use the optical scan machines.
What if there are problems on Election Day?
"We have a system, a GPS, radio-dispatched technical team that can be anywhere in the county within 10 or 15 minutes, to any site if there's an issue," says Johnson.
Add to the mix statewide voter turnout, which could be 90 percent, and include half a million first-time voters.
"We build the racetrack for all the cars to run on. We don't care who comes onto the track to run. We don't care who wins," said Johnson. "But the track needs to be smooth and that's what we're all about."
E-mail to a friend

All About U.S. Presidential Election • Florida