By Campbell Brown
CNN
Editor's note: Campbell Brown anchors CNN's "Campbell Brown: No Bias, No Bull" at 8 p.m. ET Mondays through Fridays. She delivered this commentary during the "Cutting through the Bull" segment of Tuesday night's broadcast.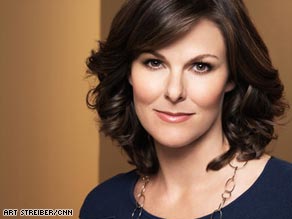 Campbell Brown says expensive portraits for administration officials are excessive in a weak economy.
(CNN) -- Flipping through The Washington Post this morning I came across a fascinating story about an age-old Washington tradition. It is one that kicks into high gear toward the end of any administration: the painting of official portraits.

You might even remember when President and Mrs. Bush invited President and Sen. Clinton to the White House for the unveiling of the Clintons' official portraits.
But what you may not know is that this little perk isn't reserved for presidents. Cabinet secretaries get them too.
So what's the big deal, you say? Well, according to The Washington Post, the costs of these portraits ranges from$7,500 to nearly $50,000.
Former Defense Secretary Donald Rumsfeld went high end. The Pentagon, The Post reports, is currently awaiting delivery of Rumsfeld's portrait. Total cost: $46,790.

Watch CNN's Campbell Brown make her case »
The Commerce Department is spending $35,000 on a portrait of Secretary Carlos Gutierrez; $25,000 for the former NASA administrator, $29,500 for the outgoing head of the EPA, and the list goes on and on.
'No bias, no bull'
Get the latest on the presidential race on "Campbell Brown: No Bias, No Bull"
8 ET Monday through Friday on CNN

I hear what defenders of this practice say: This is for history. A portrait will outlast any photograph.
But come on, in this economy? With the financial crisis we are all facing?

Guys -- take a picture.

The opinions expressed in this commentary are solely those of Campbell Brown.
E-mail to a friend

All About George W. Bush • Donald H. Rumsfeld • Bill Clinton • Hillary Clinton