From Paul Steinhauser
CNN Deputy Political Director
WASHINGTON (CNN) -- With two weeks and one day until Election Day, a new national poll of likely voters suggests the race for the White House may be tightening up.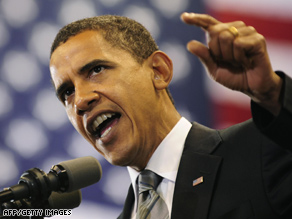 Sen. Barack Obama holds a five-point advantage in a new CNN poll, down from eight points.
In a CNN/Opinion Research Corporation survey released Monday, 51 percent of likely voters questioned Friday through Sunday back Barack Obama for president, with 46 percent supporting John McCain. That five-point advantage for Sen. Obama, D-Illinois, is down from an eight-point edge he held over Sen. McCain, R-Arizona, in the last CNN/ORC national poll, conducted October 3-5.
One reason behind the tightening of the race appears to be a drop in the number of people who think McCain, if elected, will mostly carry out President Bush's policies. Forty-nine percent of those questioned in the new survey say McCain would mostly carry out Bush's policies, down from 56 percent in the previous poll.
"It's clear from the final presidential debate that one of McCain's top priorities was to distance himself from Bush," said CNN Polling Director Keating Holland. "It looks like McCain has convinced growing numbers of Americans that his policies would be different than Bush.
"The next task is to convince voters that his policies would be better than Bush's, and, on the economic front at least, that may be a more difficult task."
Don't Miss
CNN is also updating its Poll of Polls of the national general election, thanks to the new CNN/ORC survey, plus the release of other new surveys Monday morning. Obama retains his six-point advantage in the new Poll of Polls, with 50 percent of voters saying the Democratic presidential nominee is their choice for president, and 44 percent backing McCain, the Republican presidential nominee. Six percent of voters are undecided.
The CNN Poll of Polls is an average of the latest national surveys. The polls included in this newest edition are the CNN/Opinion Research Corporation Survey (October 17-19), a Reuters C-SPAN/Zogby poll (October 17-19), a Gallup poll (October 16-18) and a Diageo/Hotline survey (October 17-19).
The new CNN/ORC poll also indicates that Americans think Obama would do a better job dealing with the tough economic times. Fifty-three percent of those questioned say Obama would better handle the current financial crisis, with 38 percent saying McCain would do a better job. And 63 percent feel Obama would better handle helping the middle class, almost double the 32 percent who feel McCain would be of better service to the middle class.
"The economy remains the number one issue, and Americans appear to be more confident in Obama on that topic," Holland said. "Both candidates tried to pitch their plans as the best thing for the middle class. Obama appears to have won that argument."
The CNN/Opinion Research Corporation poll was conducted by telephone, with 1,058 adult Americans questioned. The survey's sampling error is plus or minus 3.5 percentage points.
E-mail to a friend

All About John McCain • Barack Obama