By Campbell Brown
CNN
Editor's note: Campbell Brown anchors CNN's "Campbell Brown: No Bias, No Bull" at 8 p.m. ET Mondays through Fridays. She delivered this commentary during the "Cutting through the Bull" segment of Monday night's broadcast.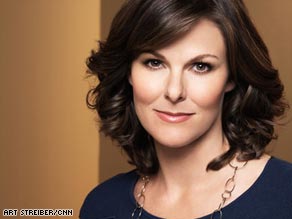 Campbell Brown says McCain gave limited access to his records and Obama has only given a doctor's statement.
(CNN) -- On Monday, Democratic vice presidential candidate Sen. Joe Biden released his medical records. Overall, he's in good health.
But the records detail his 1988 treatment for two brain aneurysms, a very serious condition. My question tonight, though, is for all the candidates: Why are you all being so cagey and so careful with this information?
This is stuff voters really need to know and it is time for the presidential and vice presidential candidates to be a lot more forthcoming.
Let's start with Republican presidential candidate Sen. John McCain. At 72 years old, if he wins this election, he will be the oldest man sworn in for his first term as president.

Watch Campbell Brown state her case »
He has survived four bouts of melanoma. In the spring, his campaign invited a handful of reporters to view some 1,100-plus pages of medical records. Reporters were only given three hours to go through more than 1,100 pages of documents and some of that information raised new questions.
Now, to McCain's credit, he has been more forthcoming than any of the other candidates, but it is not enough.
'No bias, no bull'
Get the latest on the presidential race on "Campbell Brown: No Bias, No Bull"
8 ET Monday through Friday on CNN

Democratic candidate Sen. Barack Obama has released almost nothing -- just a one page note from his doctor saying he's in excellent health and some basic test results from past checkups.
Sure, he's a young guy and he looks healthy, but so did John F. Kennedy and he had serious health issues. Voters have a right to a full and thorough vetting.
Sen. Biden today gave us a lot more information than Obama, but he, too, left out some important details that raise questions about his health.
As for McCain's running mate, Gov. Sarah Palin, she has released nothing. No medical information at all. So, from Gov. Palin, anything, frankly, would be helpful.
Look, I get why they wouldn't want to release this information. It's intrusive. It is personal, very intimate stuff. If it were me, I wouldn't want my medical records made public. But I'm not running for anything and the American people should have the right to know everything there is to know about the health and personal vitality of our next president and vice president.
We are expecting these people to not only be around for at least the next four years, but to be at the top of their game.
To all the candidates, you may all be in great shape, in the best of health, but based on how little you have been willing to tell us, how can we be sure?
The opinions expressed in this commentary are solely those of Campbell Brown.
E-mail to a friend

All About Joseph Biden • Sarah Palin • John McCain • Barack Obama