(CNN) -- Sen. John McCain said Sunday he's "very happy" with the way his campaign is going, despite his "underdog" status in the polls.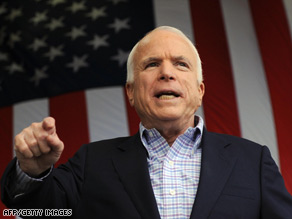 Sen. John McCain says that "every time that I've gotten ahead, somehow I've messed it up."
"We're going to be in a tight race and we're going to be up late on election night. That's just -- I'm confident of that. I've been in too many campaigns, my friend, not to sense that things are headed our way," McCain said Sunday on Fox News.
Sen. Barack Obama leads McCain by 6 points, according to CNN's latest average of national polls.
"I love being the underdog. You know, every time that I've gotten ahead, somehow I've messed it up," the Republican candidate said.
Asked if Gov. Sarah Palin has become a drag on his ticket, McCain said, "As a cold political calculation, I could not be more pleased."
"She has excited and energized our base. She is a direct counterpoint to the liberal feminist agenda for America. She has a wonderful family. She's a reformer. She's a conservative. She's the best thing that could have happened to my campaign and to America," he said.
In response to a question from Fox's Chris Wallace, McCain said he has considered the possibility that he could lose, but added, "I don't dwell on it."
Don't Miss
"I've had a wonderful life. I have to go back and live in Arizona, and be in the United States Senate representing them, and with a wonderful family, and daughters and sons that I'm so proud of, and a life that's been blessed," he said.
"I'm the luckiest guy you have ever interviewed and will ever interview. I'm the most fortunate man on earth, and I thank God for it every single day."
McCain said if things don't turn out his way on Election Day, "Don't feel sorry for John McCain, and John McCain will be concentrating on not feeling sorry for himself." iReport.com: Send a video question for McCain
CNN's latest poll of polls shows Obama drawing 49 percent of voters nationwide, while McCain stands at 43 percent.
The 6-point lead represents no change from a CNN poll of polls released late last week, though it is 2 points smaller than one week ago.
The national poll of polls consists of three surveys: Reuters/C-SPAN/Zogby (October 15-17), Gallup (October 15-17) and Diageo/Hotline (October 15-17). It does not have a sampling error.
Obama on Sunday was campaigning in North Carolina, a once reliably Republican state in presidential contests that is now up for grabs.
The last Democratic presidential candidate to win North Carolina was Jimmy Carter in 1976. The most recent CNN/Time Magazine/Opinion Research Corporation poll in the state has the contest deadlocked at 49 percent for each candidate.
At his event in Fayetteville, Obama shot back at McCain, who has hinted that he thinks his rival's policies are "socialist." Read what McCain said
In his interview with Fox on Sunday, McCain said, "I think his plans are redistribution of the wealth. ... That's one of the tenets of socialism. But it's more the liberal left, which he's always been on."
Obama brushed off the charge Sunday, saying he just wants to give the middle class a tax cut.
"John McCain thinks that giving these Americans a break is socialism. Well, I call it opportunity, and there is nothing more American than that," Obama said Sunday.
Obama's campaign events come on the heels of a big endorsement from Colin Powell, the former secretary of state.

Watch what Powell says about Obama »
"I think he is a transformational figure, he is a new generation coming onto the world stage, onto the American stage, and for that reason I'll be voting for Sen. Barack Obama," Powell said as he announced his endorsement Sunday on NBC's "Meet the Press."
McCain on Sunday was campaigning in Ohio, the state that put President Bush over the top in his re-election bid four years ago.
The Arizona senator had rallies scheduled in Westerville and Toledo, Ohio.
The most recent CNN poll of polls in Ohio suggests that 47 percent of voters there are backing Obama and 46 percent are supporting McCain.
As for the running mates, Palin on Sunday had a rally scheduled in New Mexico, a state that narrowly went for President Bush four years ago.
Democratic vice-presidential nominee Joe Biden was holding a campaign rally in Tacoma, Washington, on Sunday. Recent polls in that state suggest Obama has a 10 point lead there.
E-mail to a friend

CNN's Kristi Keck, Alexander Mooney and Paul Steinhauser contributed to this report.
All About U.S. Presidential Election