From Paul Courson
CNN
WASHINGTON (CNN) -- Alaska Sen. Ted Stevens returned to the stand in his corruption trial Friday and described how he paid for home renovations that prosecutors say he should have reported as gifts on financial disclosure forms.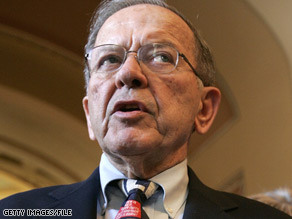 Sen. Ted Stevens denied trying to conceal information from the Senate.
Stevens, the Senate's longest-serving Republican, is the final defense witness in his trial on seven counts related to allegations of making false statements on annual Senate disclosure forms.
Stevens, 84, hopes to clear his name by November, in time for voters to decide whether to elect him to a seventh term representing Alaska, as he has done for nearly 40 years.
Prosecutors say that some of the home renovations and other unreported gifts were bankrolled by Bill Allen, a former oil industry executive who has pleaded guilty to trying to bribe Alaska state officials.
In his second day on the stand, Stevens testified that he and his wife paid for all the improvements on their Alaska chalet, which they extensively remodeled about eight years ago. He also attempted to address a series of e-mails that prosecutors introduced earlier in the trial.
During cross-examination, Stevens stood firm in his denials of wrongdoing through testy exchanges with prosecutor Brenda Morris, who accused him of trying to "cover your butt" with a series of e-mails asking about invoices and billing.
"No, my bottom wasn't bare," Stevens replied.
Under questioning by defense attorney Brendan Sullivan, Stevens described how he planned to finance the cost of renovations, which more than doubled the size of the couple's chalet in the Alaskan ski village of Girdwood, about 40 miles from Anchorage.
"We were going to borrow money from the bank and use the chalet as security," he said of plans to expand the home, which originated in late 1999, to accommodate visits from his six children and grandchildren.
Stevens testified that he and his wife, Catherine, obtained a $100,000 line of credit, which was to be combined with $50,000 from a trust investment in a Miami, Florida, condominium project. An additional $10,000 came from a traditional bank account that he and his wife maintained.
Defense attorneys have maintained throughout the trial that the Stevenses paid about $166,000, an amount that covered all the costs the Stevenses knew about.
Don't Miss
The defense has been trying to convince the jury that any additional expenses were concealed from or not provided to the Stevenses, despite their requests for a full accounting.
But the prosecutor opened her cross-examination Friday afternoon with a relentless series of questions in an effort to establish a link between Allen's company, Veco, and the renovations.
Veco has never appeared on any of the mandatory Senate financial disclosure forms, and Stevens testified Friday that he did not include Allen's name in his response to a press inquiry regarding renovations at the chalet.
Morris questioned Stevens on how he handled Allen's generosity in assigning company workers and using company materials as part of the improvements.
Morris also asked Stevens why didn't he ask to remove items including a wraparound deck, rope lights, a gas grill, a fish statue, a generator and a steel staircase. Stevens said Allen put them there without the senator's knowledge, especially since Stevens spent so much time away.
The jury is aware that Allen may get less jail time when sentenced in the Alaska case as a result of his testimony against Stevens.
Stevens is not accused of accepting bribes.
As he returned for a second day on the witness stand, Stevens was shown a series of e-mails that prosecutors entered as evidence, including one that contained an exchange between him and Allen.
"I asked him to get me bills as to what was going on in the house, and this operation, and all the things that were going on there in 2002," Stevens said.
In the e-mail, Stevens warned Allen, a longtime friend, to "remember Torricelli."
It was during a time when the Senate Ethics Committee admonished Sen. Robert Torricelli, D-New Jersey, for accepting and failing to disclose expensive gifts from a campaign contributor. Torricelli dropped his re-election bid.
"I'm telling [Allen], he's not going to give me anything. I want a record of what was done on the chalet, and I want to pay for it," Stevens said in an effort to explain the meaning of the e-mail.
On Thursday, Catherine Stevens was on the witness stand. During friendly questioning by her husband's lawyers, she laid out a methodical, detailed system of accounting for the chalet project, acknowledging that she had the most hands-on responsibility for the bills.
But when it came time for prosecutors to cross-examine, she was unable to explain an elaborate front deck on the first floor of the chalet, which was added near the end of the construction.
She testified that she thought the deck was part of the finishing work that had been done on the first floor by a contractor who had sent invoices that she had paid. She could not name the workers who built the deck and could not say whether there was an invoice entry describing the deck.
The case could go to the jury by Tuesday.
E-mail to a friend

All About Ted Stevens • Alaska • Bill Allen