From Bill Mears
CNN Supreme Court Producer
WASHINGTON (CNN) -- The Supreme Court is backing Ohio elections officials in an ongoing dispute over allegations of voter registration fraud.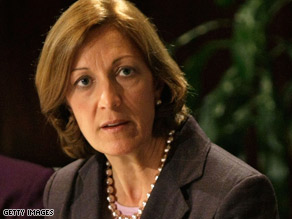 Ohio Secretary of State Jennifer Brunner filed the emergency appeal with the U.S. Supreme Court.
The justices in an unsigned opinion Friday blocked a lower court order directing the Ohio Secretary of State -- a Democrat -- to update the state's voter registration database after information provided by some newly registered voters did not match up with Social Security and driver registration numbers.
The state Republican party had asked for enforcement of a temporary restraining order, but the justices ultimately denied that request.
The appeal, from Secretary of State Jennifer Brunner and other elections officials, follows a Tuesday ruling from the 6th U.S. Circuit Court of Appeals in Cincinnati that sided with the state GOP.
It ordered Brunner to create a system by Friday to provide a list of newly registered voters whose Social Security numbers or driver's license numbers do not match their names.
Don't Miss
By reversing the lower courts decision, Brunner said in a statement that the Supreme Court's had "protected the voting rights of all Ohioans, allowing our bipartisan elections officials to continue preparing for a successful November election.
"We filed this appeal to protect all Ohio voters from illegal challenges and barriers that unfairly silence the votes of some to the advantage of others," she said.
The state Republican Party contends that there is widespread voter fraud in Ohio -- a crucial battleground state for the 2008 presidential election -- and that Brunner "turned off" its process for verifying voter registrations while allowing Ohioans to cast ballots on the same day they registered.
In reaction to the high court's decision state GOP Chairman Bob Bennett said in a statement, "This decision was made on a technicality, not on the merits of the case."
"We are again calling on the Secretary of State to comply with federal law by providing clear instructions to election administrators on how to handle questionable voter registration forms," Bennett said.
Bennett had accused Brunner of concealing fraudulent voter registrations in hopes of swinging the state to Sen. Barack Obama, the Democratic presidential candidate.
Brunner's office has acknowledged that preliminary information provided by about 200,000 registered voters may not match up. Brunner said Tuesday she had prepared for the appeals court's "possible adverse decision" ahead of time by announcing plans to "further improve the statewide voter registration database."
The appeals court opinion called Ohio's current system "virtually useless" and said it does "nothing to address the anti-fraud objective."
E-mail to a friend

All About Election Fraud • U.S. Presidential Election