By Campbell Brown
CNN

Editor's note: Campbell Brown anchors CNN's "Campbell Brown: No Bias, No Bull" at 8 p.m. ET Mondays through Fridays. She delivered this commentary during the "Cutting through the Bull" segment of Friday night's broadcast.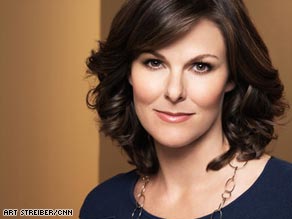 CNN's Campbell Brown says Wall Street's bigwigs should realize that real Americans are bailing them out.
(CNN) -- How tone-deaf are the titans of Wall Street? It is amazing to me that many of these companies that the federal government (and that means we, the taxpayers) are bailing out right now. I still just don't get it.
I was shocked this week to hear about the big insurance company AIG sending its top executives on a $90,000 English hunting trip at the exact time that Americans are forking over $123 billion to keep that company afloat. How does this happen?
Well, AIG explained it this way: This was an annual event to thank its customers, planned long before the government bailout. So what? You couldn't cancel? The deposit was non-refundable?
What makes this so ridiculous is that AIG is a repeat offender. A couple of weeks earlier, AIG spent a small fortune, more than $440,000, on a lavish California retreat that included spa treatments and golf outings. The White House called it despicable.

Watch CNN's Campbell Brown state her case »
'No bias, no bull'
Get the latest on the presidential race on "Campbell Brown: No Bias, No Bull"
8 ET Monday through Friday on CNN

What does it take for these guys to get it? Apparently in AIG's case, it took New York Attorney General Andrew Cuomo threatening to file charges against the company and its executives. Only then did AIG see the light.
The company now says it regrets that that hunting trip wasn't canceled, and they've opted to put all their future lavish getaways on hold until the financial crisis sorts itself out.
Note to the tone-deaf Wall Street titans: This is not about you losing your vacation home or you having to give up your private jet and fly commercial. This is about real life and real people. And it's real people who are saving your skin right now. You should be so grateful.
The opinions expressed in this commentary are solely those of Campbell Brown.
E-mail to a friend

All About National Economy