From Paul Courson
CNN
WASHINGTON (CNN) -- Sen. Ted Stevens took the stand in his corruption trial Thursday afternoon and denied that he filed false financial forms with the Senate.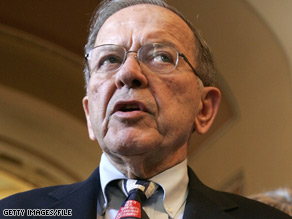 Sen. Ted Stevens, who testified at his trial Thursday, denied trying to conceal information from the Senate.
The bulk of the money that Stevens is accused of trying to hide is related to a major renovation at the Stevens family chalet, located a block from a ski slope in Girdwood, Alaska, about 40 miles from Anchorage.
Stevens testified that he believed the Senate financial forms he signed were accurate and truthful.
Asked by his defense attorney whether he intended to file a false statement, Stevens replied, "No, I did not."
He denied engaging in any scheme to conceal information from the Senate.
Stevens, 84, has pleaded not guilty to a seven-count indictment that accuses him of lying on Senate financial disclosure forms about more than $250,000 in renovations on the house and other gifts from a close friend, Bill Allen, and his company, Veco, which has since been sold.
Allen, the prosecution's star witness, is awaiting sentencing after admitting trying to bribe Alaska state lawmakers, including Stevens' son.
Don't Miss
Prosecutors say Stevens accepted other gifts that should have been listed on the disclosure documents, and Allen acknowledged in his testimony that he concealed some of those costs.
Stevens took the stand after his wife, Catherine, offered testimony to support the defense claim that the couple paid all the bills they knew about.
Catherine Stevens, a partner at a District of Columbia law firm, has been portrayed by the defense as the person most responsible for keeping track of the extensive renovations at the home.
The modest A-frame lodge was turned into a two-story home with wraparound decks, a balcony, a sauna, a garage and an extra bedroom, according to testimony. A kitchen was relocated, and new plumbing and electrical wiring were added.
Catherine Stevens, who married the senator after his wife died in an accident, said the family needed more room. The senator had five children with his previous wife, and he and Catherine had one daughter.
Defense attorney Rob Cary took Catherine Stevens through a series of invoices, matching them to the penny with checks bearing her signature, and asked her to describe where the couple got the money to pay for the renovations.
She said the National Bank of Alaska granted them a $100,000 line of credit, using the chalet as collateral. Catherine Stevens, who grew up in Anchorage, said the letter conveying the loan was signed by a man she has known since high school.
But then Cary brought up questions raised by a newspaper reporter asking whether Veco Corp. had paid for a lower deck that had been constructed near the end of the renovation project.
The senator's press secretary had called for information, Catherine Stevens testified, and she told the spokeswoman that the contractor was not Veco -- and she had the bills to show that.
When Cary asked her to sum up how they treated the costs of the renovation, she said, "I believed that any work on the chalet we would pay for, we would be billed for."
U.S. District Judge Emmet Sullivan warned the court last week, however, that Ted Stevens was not charged with failing to pay his bills, but with failing to report the receipt of significant gifts.
E-mail to a friend

All About Ted Stevens • Alaska • Bill Allen