By Campbell Brown
CNN
Editor's note: Campbell Brown anchors CNN's "Campbell Brown: No Bias, No Bull" at 8 p.m. ET Mondays through Fridays. She delivered this commentary during the "Cutting through the Bull" segment of Thursday night's broadcast.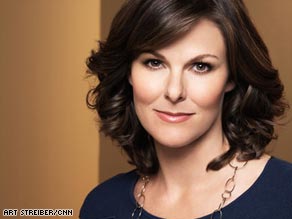 CNN's Campbell Brown says the candidates should spend their campaign money helping the homeless.
NEW YORK (CNN) -- In the middle of an economic crisis, with a lot of Americans worried to death about how they are going to pay their bills, our two presidential candidates are about to spend an astonishing amount of money kicking the "you know what" out of each other on national television.
This year they are breaking all records in terms of the amount of money spent and the number of negative ads.
A study by the Wisconsin Advertising Project at the University of Wisconsin at Madison says the campaigns will spend a combined $30 million a week on ads between now and Election Day, the vast majority negative.

Watch CNN's Campbell Brown make her case »
According to Wednesday's Wall Street Journal, negative ads are having almost no impact this election cycle. The journal's headline: Ready, Aim, Backfire: Nasty Political Ads Fall Flat.
iReport.com: What do you think about the battle of plungers over Joe the Plumber?
Why? According to one quote, "Arguing about personal associations pales in comparison to the current grim economic news."
'No bias, no bull'
Get the latest on the presidential race on "Campbell Brown: No Bias, No Bull"
8 ET Monday through Friday on CNN

Still between now and Election Day, Obama and McCain are going to spend a combined $30 million a week.
So I'm going to throw a crazy idea on the table that I don't think is that crazy. There is a food bank in Provo, Utah, that feeds the homeless. Joalaina Redbird takes her three small children there. They have all three meals there every day.

They became homeless two months ago when her husband lost his construction job. This food bank is running low on supplies; they have issued an emergency call for help. Because of our economic crisis, donations are way down and the number of people they are feeding is way up.
This story is being repeated all over the country. The Northlands Rescue Mission, a homeless shelter in Grand Forks, North Dakota, is bursting at the seams every night with record numbers of homeless showing up needing a place to sleep, again, a result of our economic troubles. And guess what -- these charities are out of money. No one is giving in these tough times.
So, Sen. Obama and Sen. McCain, how about instead of spending that $30 million a week kicking the "you know what" out of each other between now and Election Day, you pool your money and you give it to that food bank in Provo, Utah, so Joalaina Redbird's kids can get three square meals a day until her husband finds another job?
Give the money to that homeless shelter in Grand Forks or any of the hundreds of charities around this country that are trying to help desperate people get through these difficult times.
If you really care about hurting Americans, put your money where your mouth is and spare us three more weeks of negative ads.
The opinions expressed in this commentary are solely those of the writer.
E-mail to a friend

All About Barack Obama • John McCain • National Economy