From Paul Courson
CNN
WASHINGTON (CNN) -- A neighbor who helped oversee renovations to the home of Alaska Sen. Ted Stevens denied allegations that he said Stevens was "just covering his ass" when he requested to be billed for some of the costs associated with the construction.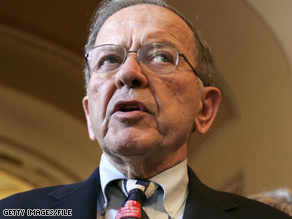 Sen. Ted Stevens is running for re-election and hopes to clear his name in the few weeks before the vote.
Bob Persons' testimony on Wednesday, in the final days of Stevens' corruption trial, contradicted testimony from the prosecution's star witness concerning whether the 84-year-old senator knowingly failed to report gifts of value on mandatory disclosure forms.
Bill Allen, founder of Veco Corp., earlier testified that Persons told him to ignore requests from Stevens for a full invoice of the costs Allen and others were running up during construction on the home, which began in 2000.
Stevens is fighting a seven-count indictment that accuses him of lying on Senate financial disclosure forms about more than $250,000 in renovations and other gifts from Allen and Veco, an oil industry services company that was Alaska's largest employer.
Stevens' lawyers have told the jury Stevens paid all the bills he knew about. Prosecutors have said Stevens accepted other gifts that should have been listed on the disclosure forms.
Veco has since been sold and Allen has pleaded guilty to trying to bribe Alaska state lawmakers in a separate case. The Washington jury is aware that Allen, when sentenced for the Alaska crime, may get less jail time for his cooperation with prosecutors against Stevens.
Stevens is not accused of accepting bribes.
Allen, the prosecution's star witness, commissioned most of the work on the Stevens chalet in the ski town of Girdwood, Alaska. He acknowledged on the witness stand that he sent Veco employees and construction materials to the Stevens project and had additional work done by others unrelated to his company.
A building contractor also testified Wednesday that Allen, who reviewed invoices before sending them to the senator and his wife for payment, once refused to pay a bill for more than $13,000 for work on the home.
Don't Miss
Augie Paone, an independent contractor who worked on Stevens' home, testified that Allen hired him to get a handle on a project that was expanding beyond the abilities of Veco's workers. Paone said Allen gave him the impression he was "to cover all our bases, so that if any of his enemies could see the invoices, it would be no problem."
Allen insisted on reviewing monthly bills from Paone's company before they were sent to the senator and his wife, Catherine, who is expected to testify for the defense later Wednesday.
Five of six invoices were paid by checks signed by Catherine Stevens, but Paone testified that Allen intercepted and refused to pay a final bill for nearly $13,400.
Allen, who testified that he wished he could have given the whole project as a gift to his friend the senator, also said he felt that the job was costing too much.
According to him, he was unable to come up with a bill he considered fair, and he concealed some additional costs from the Stevenses "because I like Ted."
Paone testified that Allen's refusal to pay his final invoice meant he would probably just lose $13,000.
"I thought about sending it over to the senator," Paone testified, "but I knew it would be a business suicide on my side if I did that."
When asked to explain, Paone said his company was "dealing with a corporation that Bill owns that has 5,000 employees, and he's dealing with a company that has five employees, so the matchup wasn't even."
But when cross-examined by prosecutors, Paone acknowledged that Allen eventually paid that final invoice for his work -- by applying that cost to unrelated work Allen had him do on his own residence.
Paone testified that when he initially presented the $13,000 bill to Allen, Allen advised him to "maybe ... eat this bill or look at it as a political contribution."
Stevens, 84, is running for re-election and hopes to clear his name in the few weeks remaining before voters cast their ballots.
E-mail to a friend

All About Ted Stevens • Alaska • Bill Allen