(CNN) -- A federal appeals court on Tuesday ordered Ohio's secretary of state to establish a system to verify hundreds of thousands of newly registered voters by Friday.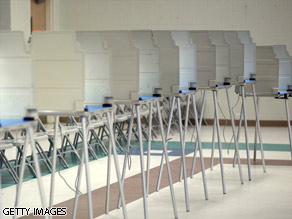 The federal appeal court ruling in Ohio on voter registration is a legal victory for the Republican Party.
Secretary of State Jennifer Brunner also has to make the eligibility information available to all 88 county election boards and use government records to check for voter registration fraud.
Nine of the 16 members of the 6th U.S. Circuit Court of Appeals concurred with an opinion that upheld a lower court's ruling in the lawsuit filed by the Ohio Republican Party against Brunner.
"It is imperative that voters not be disenfranchised because of federal government red tape, misstated technical information or glitches in databases beyond the control of voters or the Secretary of State," said Brunner, a Democrat, after the ruling.
"That is why we will work with the federal court, even though we believe that the order goes beyond the requirements of (the Help American Vote Act)."
The long-running legal battle emerged from allegations of registration fraud in the crucial battleground state, namely accusing Brunner's office of "turning off" its process for the verification of voter registration while allowing Ohioans to cast ballots on the same day that they registered.
On Saturday, when a three-judge panel of the appeals court ruled against the Ohio Republicans, state GOP Chairman Bob Bennett accused Brunner of concealing fraudulent voter registrations in hopes of swinging the state to Sen. Barack Obama, the Democratic presidential nominee.
"Jennifer Brunner continues to do everything she can to help her candidate," Bennett had said. "Her efforts to fight transparency and accountability in the voting process are shameful, and her actions to conceal fraudulent activity only serve to cast doubt on the integrity of this election. "
The majority opinion of the full court called Ohio's current system "essentially useless" and found it does "nothing to address the anti-fraud objective."
Brunner on Tuesday said she prepared for the court's "possible adverse decision" ahead of time by announcing plans to "further improve the statewide voter registration database."
"Our goal is to protect the rights of all eligible voters to vote and to have their votes count," she said.
E-mail to a friend

All About U.S. Presidential Election • Election Fraud