From Paul Courson
CNN
WASHINGTON (CNN) -- Republican Sen. Orrin Hatch heaped praise Tuesday afternoon on indicted Sen. Ted Stevens, calling him "decent" and "honorable" in testimony at Stevens' trial.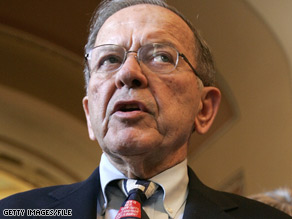 Sen. Ted Stevens is running for re-election and hopes to clear his name in the few weeks before the vote.
Hatch, of Utah, said he met Stevens when Hatch ran for the Senate for the first time in in 1976. Stevens, also a Republican, represents Alaska.
"I've seen a lot of senators come and go. I'd rate him at the very top -- one of the great lions of the Senate. If he gives you his word, he will keep it. He fights for his state like you can't believe," Hatch said under questioning by defense attorney Brendan Sullivan.
Asked whether he had had frequent contact with Stevens, Hatch replied: "I love the guy, just a wonderful man."
Hatch, the ninth-most senior Senate member, called Stevens and Democratic Sen. Daniel Inouye "legends in the U.S. Senate," and said they did an excellent job when they ran the Senate Appropriations Committee.
Inouye was a character witness for Stevens last week.
Stevens "always tried to get at the truth. One of the things about Ted Stevens is that he's straightforward," Hatch said.
Stevens, 84, is running for re-election and hopes to clear his name in the few weeks remaining before voters cast their ballots.
Stevens was indicted in July on seven counts of making false statements in failing to report the monetary benefits of his relationship with longtime friend Bill Allen, founder of Veco Corp., one of the largest private employers in Alaska. Allen acknowledged on the witness stand he did not send an invoice to Stevens for some of the goods and services that went into the house.
Veco, an oil industry contractor, has since been purchased by a company in Denver, Colorado, and Allen is awaiting sentencing after pleading guilty to bribing Alaska state lawmakers, one of whom is the senator's son.
The defense team strategy is to try to convince the jury that Stevens was unaware that he may not have paid the entire cost of renovations, and would have done so if Allen had sent him a complete bill.
Stevens' lawyers plan to call his wife to the witness stand this week. Catherine Stevens is an attorney and has been portrayed by the defense as the person most responsible for keeping track of renovations to the couple's chalet, which is a block from an Alaska ski slope in the town of Girdwood, southeast of Anchorage.
His wife's role in the project is another aspect that the defense hopes may shift some of the burden away from the senator. Evidence is expected to include e-mails between her and a neighbor in Alaska in which they discussed construction progress.
The name of the neighbor, Bob Persons, is also on Tuesday's witness list.
Several character witnesses testified after the trial moved to the defense phase. Former Secretary of State Colin Powell testified last week as to the integrity and honesty of Stevens, who has been an Alaska senator since 1968.
Prosecutors hope jurors will be convinced by recordings of wiretapped phone calls between Allen and Stevens, and between Allen and the neighbor, which have included conversations questioning how to document the bills to satisfy the Senate reporting requirements.
E-mail to a friend

All About Ted Stevens • Alaska