From Elise Labott
CNN State Department Producer
WASHINGTON (CNN) -- Secretary of State Condoleezza Rice has canceled a trip to a Middle East conference because of the global crisis in financial markets, the State Department said Tuesday.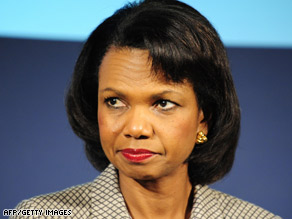 Secretary of State Condoleezza Rice is playing a "supporting role" in dealing with the money crisis.
Rice was to attend the Forum for the Future, an annual conference on Middle East reform taking place in the United Arab Emirates this month.
State Department spokesman Sean McCormack said that because the financial crisis is of a global nature, Rice decided "she should stay back" and "pitch in."
Although the Treasury is taking the lead in the crisis, McCormack said Rice is serving a "supporting role" and taking part in government-wide discussions about U.S. financial policy.
Though the topic of the economy has come up during her discussions with her foreign minister counterparts, Rice has not been holding discussions with finance ministers around the world about the crisis, he said
Rice was at the White House this weekend, however, when President Bush met visiting finance ministers.
McCormack said Deputy Secretary John Negroponte will replace Rice at the Forum for the Future, and Rice plans to visit the Middle East within the next several weeks.
Rice spoke Tuesday to businessmen and investors involved in the Palestinian Business and Investment Forum, a public-private partnership set up last year by the Bush administration to develop the Palestinian economy.
Israel must do more to ease restrictions on Palestinians in the West Bank in order to help foster economic development in the occupied territories, she said.
Rice said she would "leave no stone unturned" in trying to get a peace deal between Israelis and Palestinians before the end of the year.
Even as the administration is in its waning months, Rice said, "I still believe we must make every effort in the time that we have to build this foundation for peace."
In an address to the forum at the U.S. Chamber of Commerce, Rice said Israel has made some progress on lifting restrictions on Palestinian movement throughout the West Bank, but "more progress needs to be made in order for Palestinian businesspeople and workers to be able to conduct business in an environment in which they can thrive."
"Israel must also halt settlement activity, which can be seen as prejudging the outcome of negotiations and undermining its negotiating partner," she said.
She said the "parties need to redouble their efforts," which includes the need for Palestinians to dismantle terrorist networks.
Rice said that although the challenges are difficult, there is a strong negotiating process in place "which I am certain will give birth to a Palestinian state."
E-mail to a friend

All About Condoleezza Rice • Middle East Conflict