By Bob Greene
CNN Contributor
ABOARD THE CNN ELECTION EXPRESS (CNN) -- The attention spans of the two competing presidential campaign organizations being what they are -- with people sleep-deprived, bleary-eyed and tense with three weeks to go -- all political thought now is being given to tomorrow night's debate in Hempstead, New York.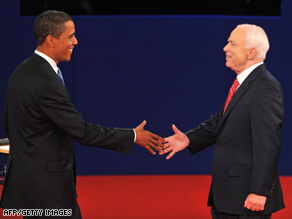 Sens. Barack Obama and John McCain greet each other before last week's debate in Nashville, Tennessee.
Last week's town hall debate in Nashville, Tennessee, already seems like it took place a thousand years ago, and has been all but forgotten.
It shouldn't be.
Because Americans with whom we have been speaking on our way across the country have a surprisingly strong and continuing reaction to what they saw at the Nashville debate. And what they saw, they tell us -- what they saw and were offended by -- was this:
The rudeness by Barack Obama and John McCain toward the citizens who had been selected to ask questions of the two men -- citizens who, perhaps foolishly, trusted that the candidates would play by the rules they had agreed to.
"I thought both McCain and Obama were arrogant," said Jennifer Eaton, 43, of Cleveland, Ohio. "I was frustrated for the men and women who had been told that they would be allowed to ask the candidates questions -- and then had to sit there and eventually go home without asking, because the candidates kept breaking the rules by talking and talking and talking."
The rules in Nashville -- agreed to in advance by both campaigns -- called for brief (two-minute) answers, and very brief (one-minute) follow-up comments, to the questions asked by the citizens. This would allow as many of the men and women as possible to present their questions to the two men, one of whom will be the next president.
Don't Miss
When the debate was over, those citizens -- only a relatively few of whom ended up getting to ask their questions, despite repeated pleas to the candidates by moderator Tom Brokaw to abide by what they had agreed to -- could have been forgiven if they concluded that Obama and McCain treated them mainly as props.
"The people in the audience played by the rules," said Joe Alonzi, 54, of Golden, Colorado.
"I'm sure they went home feeling diminished by how the candidates treated them," said Susi Baker, 52, also of Golden. "They had been chosen because they were told their questions were outstanding, and then most of them had to just sit there because McCain and Obama decided they would make up whatever rules they wanted."

Watch McCain's new message »
Is this important, in the scheme of things?
"It's very important," said Tiffany Montero, 21, of Washington. "If you're told you are one of the people who may be called on to ask a question, this is your big chance to have your words and thoughts be heard by the whole country. The candidates get that chance every day. So for them to take that chance away from so many people in the audience was unthoughtful and wrong. It was disrespectful."

Watch analysts ask if McCain can turn it around »
During these weeks when the campaigns have been loudly complaining that the privileged and powerful executives who run Wall Street make up their own sets of flexible rules, while taking advantage of regular citizens, the candidates showed precisely the same kind of disregard at the debate, people told us again and again.
"I didn't feel it was right," said Tommy Havard, 64, of Pensacola, Florida. "If I was one of those people selected to ask a question, and didn't get to because of the candidates, I would be very let down."
The almost poignant thing was that it was clear the people had been instructed to keep their questions succinct -- and that they had taken that instruction, and their once-in-a-lifetime opportunity, seriously, and had worked to make their wording economical and concise.
"They followed the rules," said Lars Jennemyr, 59, of New York.
The result was a perceived demonstration, intentional or not, that, at the highest levels of American politics, the game is played as if the regulations are for someone else.

Watch Obama lay out his economic plan »
"When Obama and McCain did let someone get a question in, half the time they didn't answer what was asked," said Diane Gay, 59, of Jacksonville, Florida. "They just said what they had come to the debate ready to say."
There were lights on the stage, to tell Obama and McCain when their time was up. They chose to ignore them. "The people asking the questions didn't do that," Joe Alonzi said. "They were considerate of each other, and of the candidates, and of the rules."
But Obama and McCain literally, again and again, ran right through red lights.
In the world the rest of America lives in, you can't do that. Which may be the one enduring lesson of the debate in Nashville.
E-mail to a friend

All About U.S. Presidential Election • John McCain • Barack Obama