(CNN) -- Sen. John McCain on Tuesday sought to discredit Sen. Barack Obama's economic record, telling voters that "perhaps never before in history have the American people been asked to risk so much based on so little."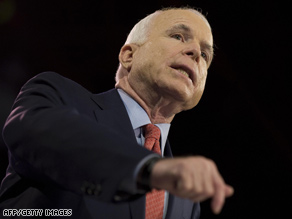 Sen. John McCain on Tuesday unveils his new plan to boost the struggling economy.
As the Arizona senator outlined his new economic proposals, he used some of his most pointed language to date to describe what he said was the difference between himself and Obama on the economy.
"He's an eloquent speaker, but even he can't turn a record of supporting higher taxes into a credible promise to cut taxes. What he promises today is the opposite of what he has done his entire career," McCain said at a rally in Blue Bell, Pennsylvania.
"Perhaps never before in history have the American people been asked to risk so much based on so little. You can look at the record of what he's done or you can just go with your gut, but either way you're left with the same conclusion: Sen. Obama is going to raise your taxes, and in this economy, raising taxes is the surest way to turn a recession into a depression."
McCain repeated his claim that Obama voted 94 times to raise taxes. According to a CNN fact check, that claim is misleading. Fact check: Did Obama vote 94 times to raise taxes?
Obama told reporters Tuesday that he hadn't reviewed the details of McCain's latest proposals, but said that in the past few weeks McCain has put forth some "very bad ideas" as well as "some good ideas."
To counter charges that their candidate would raise taxes, the Obama campaign on Tuesday posted an online calculator that allows users to compare what their tax cuts would look like under each of the candidate's proposals.
The campaign said they expect McCain to "lie about Obama's tax plan" during the final presidential debate, which takes place Wednesday in Hempstead, New York.
Obama on Tuesday was in Toledo, Ohio, to prepare for the debate.
McCain criticized Obama as a "man who now presents himself as a tax cutter and champion of middle-class America" despite revising his tax plans "with each new poll."
Obama's tax plan would cut taxes for most taxpayers, but raise them for the wealthiest. The largest increases would be on the top 1 percent of earners, according to analysis by the Tax Policy Center, a nonpartisan research group whose staff includes former economic advisers to the White House and Congress under both Republicans and Democrats. Fact check: Does Obama want to raise taxes?
By comparison, the Tax Policy Center analysis says McCain would offer tax cuts across the board.
McCain on Tuesday told voters his "plan for economic recovery does not require guesswork or blind faith from the American people."
"You know my record. You don't have to hope I will do what I promise," he said.
McCain outlined his new economic proposals, which the campaign says will help those who are "hurting the most" in the face of the ongoing financial crisis.
The proposals come one day after Obama detailed his "economic rescue plan" for the middle class. The Democrat's plan focuses on stabilizing the financial system, providing relief for families and communities, and helping struggling homeowners.

Watch more on the candidates' economic plans »
McCain's plan, called "the pension and family security plan," builds on the Arizona senator's "American home ownership resurgence plan," which was introduced last week.
That proposal called for using $300 billion of the $700 billion financial bailout package to keep Americans in their homes, stop declining housing values, and stabilize the financial markets.
McCain's new plan includes specific proposals to help seniors, those saving money and homeowners.

Watch analysis of McCain and women voters »
The plan will help seniors by lowering taxes on withdrawals from their retirement accounts and suspending tax rules that force them to sell their stocks during the financial crisis, the campaign said.
The plan will help those saving money by accelerating the tax write-offs for those forced to sell stocks at a loss in the current market and reducing capital gains taxes for 2009 and 2010 to raise the incentive to save and invest, according to the campaign.
To provide relief for homeowners, the plan includes a proposal to purchase mortgages directly from the homeowners and mortgage servicers and replace them with manageable, fixed-rate mortgages.
To assist workers, the plan would eliminate taxes on unemployment benefits, according to the campaign.
Obama's campaign said McCain's proposals are "a day late and 101 million middle-class families short." Fact check: McCain's plan gives 100 million no relief?
The campaign said McCain's plan doesn't offer enough tax relief for working families and small businesses.
McCain has his work cut out for him when it comes to the economy, according to recent polls.
The most recent CNN/Opinion Research Corp. poll suggests that Americans think Obama would do a better job than McCain when it comes to the economy. Fifty-seven percent of those polled said Obama would do a better job dealing with the economy, with 37 percent saying McCain would do better.
Some conservative leaders have warned that if McCain doesn't step it up on the economy, he'll lose the election.

Watch analysts discuss what it would take for McCain to win »
"Either McCain wins the argument over the economy or he loses," Newt Gingrich, the former speaker of the House, told Politico.
McCain's No. 2, Alaska Gov. Sarah Palin, gave an interview Tuesday on Rush Limbaugh's radio show, just minutes before taking the stage at a rally in Scranton, Pennsylvania.
Limbaugh asked Palin if she had thought about her political future after this election. She told the conservative talker and his millions of listeners: "That's a good question."
But she then quickly re-assured Limbaugh that her focus was on winning the White House with McCain.
"No, because I am thinking about November 4, and I am just so absolutely passionate about the job that we have in front of us from now to November 4," she said.
E-mail to a friend

CNN's Jim Acosta, Peter Hamby, Ed Hornick and Paul Steinhauser contributed to this report.
All About National Economy • U.S. Presidential Election