By Gloria Borger
CNN Senior Political Analyst
WASHINGTON (CNN) -- The other day, when confronted by a confused, angry and scared supporter who called Barack Obama "an Arab," among other things, you could see a glimpse of the old John McCain.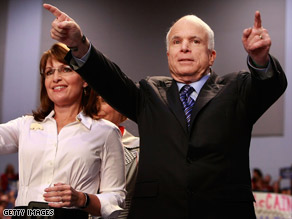 Sen. John McCain and Alaska Gov. Sarah Palin fire up a GOP rally in Virginia Beach, Virginia.
Sure, he doesn't like Sen. Obama much personally; nor does he think Obama has done enough to qualify him for the presidency. But, for a moment, this had gone too far, and McCain had to put a stop to it.
Which he did. And good for him.
But is this the same John McCain who has been asking the leading question: "Who is the real Barack Obama?" Or the candidate who has cast his running mate as a willing pit bull, accusing Obama of "palling around with terrorists?"
Of course we should expect that a presidential election will turn negative. And, yes, both sides are clearly engaged in obfuscation through negative ads. But just as Obama has told us he's all about hope, McCain has told us he's different from other pols.
Turns out, he's not. Or at least his campaign has been more of the same.
Don't Miss
No one can blame Sen. McCain for wanting to run a campaign about character. After all, as a Republican, the fundamentals of the issues were weak, even before the economic crisis: a very unpopular president and voters who overwhelmingly believe the nation is headed in the wrong direction.
So while the Democratic call for change made sense, McCain would be the guy who was different -- from the Republicans in power, and from other politicians -- because he had a history of working across the aisle.
What's more, the character narrative also included his other traits -- as a war hero, a straight talker, a fighter and, of course, as the independent maverick. All of which are popular traits with voters who believe Washington is a black hole when it comes to accomplishment.

Watch Palin pump up a Republican crowd »
In this effort, the McCain campaign decided to portray its opponent as the celebrity -- a great actor, light as air, with little experience to back him up. Then the celebrity became a darker figure -- a "friend" of Bill Ayers, a onetime domestic terrorist.
It's not about Ayers, the campaign clarified; it's about Obama "not telling the truth" about his relationship with Ayers. (As if they expected all voters to make that distinction.)
All in all, Obama is a risk, they told us, and we're just warning you.
Then came the economic crisis. And suddenly, the summertime's amusing Paris Hilton-Barack Obama comparisons seem, well, less amusing. So do the fights over gas tax holidays, another McCain proposal that has fallen off the face of the earth.

Watch Biden ask what McCain is offering »
Now the notion of leadership in a crisis is no longer a theoretical question of character and ability. It is very real.
And so the campaign has changed. Negative attacks -- on either side -- somehow seem less salient when you're watching your retirement savings dwindle. Voters want ideas, not punches, no matter how deftly delivered.
A candidate will appear risky only if he appears to be unable to think and lead the country out of its recession.
How long ago does "lipstick on a pig" seem?
E-mail to a friend

All About Economic Issues • U.S. Presidential Election