(CNN) -- Republican vice presidential nominee Sarah Palin has been criticizing Democratic standard-bearer Barack Obama for "palling around with terrorists," citing Obama's past associations with Bill Ayers, a founder of the radical Weather Underground, which was involved in several bombings in the early 1970s.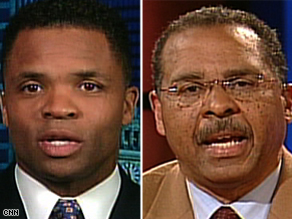 McCain supporter Kenneth Blackwell, right, and Rep. Jesse Jackson Jr. praised a calming of campaign rhetoric.
And a McCain campaign Web ad calling Obama "too risky for America" focused on his relationship with Ayers.
"Barack Obama and domestic terrorist Bill Ayers. Friends. They've worked together for years. But Obama tries to hide it," the announcer said in the 90-second ad.
Obama acknowledges meeting Ayers, now a university professor, in 1995, when both worked with a nonprofit group trying to raise money for a school improvement project and a charitable foundation. CNN's review of project records found nothing to suggest anything inappropriate in the volunteer projects in which the two men were involved.
But the ads have fueled tensions on the campaign trail, with some heated comments at McCain rallies that the GOP nominee has tried to cool, defending Obama as an honorable person with whom he has policy differences.

Watch a discussion of heated rhetoric in campaign »
Monday on "American Morning," former Ohio Secretary of State Kenneth Blackwell, a McCain supporter, and Rep. Jesse Jackson Jr., D-Illinois, an Obama supporter, discussed the heated campaign rhetoric with CNN's Kiran Chetry.
CHETRY: I'll start with you, Kenneth. Did the McCain campaign sort of bring this on themselves, if you will, by some of the words that both Sarah Palin and other McCain surrogates and supporters have said on the campaign trail? That they sort of let this get ahead of them and now they're trying to dial it back?
BLACKWELL: Well, no. I don't think that's the case at all. John McCain went to the Urban League, went to the NAACP, he went to Memphis for the observance of the Dr. King's assassination. And John McCain has basically said, look, I wasn't there on the front lines in the civil rights movement. But I'm here now.
Don't Miss
So, no. I don't think the McCain campaign has brought it on itself. But look, it is the legitimate issue to talk about affiliations, associations and alliances. That gives you a glimpse of who a person is. My grandmother used to say, "Tell me who you walk with and in part, I'll tell you who you are." So that's a legitimate issue. What McCain has done is turn back the excessive rhetoric. ...
CHETRY: Is it a difficult position though -- and I want to ask you, Congressman Jackson -- for McCain to have to be on the stump defending his rival?
JACKSON: Well, of course it is. But let me say that I'm impressed with John McCain -- and so is Sen. Barack Obama -- and the desire of both of the candidates to truly lead on some very difficult questions.
Obviously our supporters on both sides of the political spectrum are adamant, they're excited about their support for their candidates. And I think the real difference here is, and the concern here is, I think John McCain wants his base to be excited. Clearly Barack Obama wants and is exciting his base. But we don't want to incite people.
There's a difference between excitement and incitement. If we're bringing people together, our democracy flourishes, we're all the better, as are people for it. If we're inciting people, we're the consequences of that. We've seen it in previous elections. It could be devastating for the Republicans.
BLACKWELL: Well stated. Well stated.
CHETRY: And Kenneth, by saying things like what Gov. Palin said on the stump last week, which was that Barack Obama was quote, "palling around with terrorists," does that incite?
BLACKWELL: No, I don't think so. I think that again, affiliations, associations give you a glimpse in a person's history. Now, is that enough in itself at a time when we're looking at a crisis of confidence in our markets? No, it's not enough. And I think the polls have indicated that.
But that's a point of contrast that's legitimate. You can go over the line, I don't see that the candidates or the principals have done that. They've done the right thing, as the congressman just said, in terms of trying to dial it back and say, here's our differences of opinions on policy and direction. Here are our histories, you compare.
CHETRY: Congressman Jackson, your fellow congressman of Georgia, Congressman John Lewis, likened the McCain campaign to the segregation as George Wallace. In the quote he said, "What I'm seeing reminds me too much of another destructive period in American history. Sen. McCain and Gov. Palin and sowing the seeds of hatred and division."
Now, he's since dialed back on those comments. Both campaigns criticized the comments.
But do you think it's as bad as Lewis said?
JACKSON: Well, let me say this. Actually, my friend Ken Blackwell and I have a disagreement. I happen to think that the idea that the Democratic nominee has been palling around with terrorists, when Mr. Ayers was a Weatherman and Barack Obama was 8 years old.
When Mr. Ayers was a Weatherman, I was 3 years old. There seems to be this emphasis here, on trying to association Barack Obama with people who have challenged America in very violent ways. And that's unfortunate.
If I chose to look back at the 8 in John McCain's life, when he was 8 or 18, or 28, or 48, 58, or 68, I could say that some of the people he served with in the United States Senate including Jesse Helms and Strom Thurmond and Trent Lott, people who have a sordid past on some of these questions. Did he distance himself from them? Did he disassociate himself from them? Did he leave the Republican caucus? Did he say, I'm not going to be a senator anymore because of the remarks or things that they've made that were controversial?
And so I think we have to judge these candidates based upon their own character, based upon their own commitment, which has really been tested over the last couple of years of this campaign. If we can focus on the issues, Kiran, that matter to the American people, the American people will be all the better for it, and I think that's what Barack Obama wants.
E-mail to a friend

All About William Ayers • Barack Obama • John McCain