By John King
CNN Chief National Correspondent
ASHLAND, Ohio (CNN) -- Deb Sheriff remembers when it was different.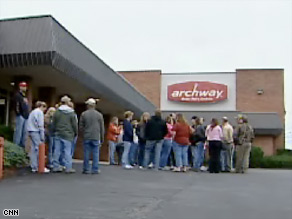 Employees at Archway Cookies bakery find out that their workplace is being shut down.
Her father moved to Ashland in the 1950s from Battle Creek, Michigan, to help build and open the Archway Cookies bakery.
And 31 years ago, Deb started working on the production line.
"We were family," she told us. "They looked out for us. You know -- we got good raises. We got raises two times a year."
The last raise, though, was six years ago. Then workers one recent Friday night noticed supervisors changing some locks. The next day, a letter was delivered by overnight mail: official notice the bakery was shutting down, and that their benefits, including their health insurance, were being canceled.
"It is just devastating," Sheriff says as she stares at the ground outside her modest home.
Nobody was getting rich at the bakery; the jobs paid from $14 to $18 an hour. But they had health insurance with a modest worker contribution. Sheriff's daughter is a single mom who also worked at the bakery, and as she mingles with other family members nearby, Deb Sheriff confronts her family's new reality.
The Next President: Battlegrounds
How race and how racial bias could impact the choice of our next president.
Sunday, 9 p.m. ET

"My daughter had a heart attack three years ago and takes heart medicine. She has high blood pressure and is a diabetic and we have no benefits as of today. So it is going to be hard for her, hard for all of us."
Tiny Ashland was already struggling; Ohio has lost 200,000 jobs over the past eight years and people here say most of the higher-paying factory jobs have disappeared. The toll is evident in the small town's center: Vacant storefronts are easy to find.
For 19 years, Terry Mowery worked in maintenance at Archway Cookies and was protected from the decline around him.
"The town of Ashland is a dying town," was Mowery's sad take. "All the manufacturing is leaving."
Politics is for the most part predictable in a conservative place like this. At the local Republican headquarters, the signs in the window are simple: "PRO LIFE" reads one. "PRO GUNS," is another.
Republicans count on big margins in these conservative areas to offset Democratic advantages in urban areas like Cleveland. Ashland also is one of those blue-collar places where Hillary Clinton trounced Barack Obama in the Democratic primaries, and some voters say flatly that they have a hard time thinking about voting for an African-American for president.

Watch how race could affect the election in Ohio »
But predictable might not be such a safe bet at such a volatile time.
Sheriff is a lifelong Republican who says John McCain will get her vote because of his military service, and because she does not believe Obama has the experience to be president.
But there are many others who say they are tired of what they perceive as Republican policies that contributed to the decline of small towns like theirs.
Mike Davis is among dozens of Archway workers we met outside the shuttered bakery, all wondering what would come next, and whether they had any way of protecting their health benefits.
"Leaning towards Barack Obama at this point," Davis said when asked about the race for president. "The country needs to definitely go in a different direction. Washington is corrupt and everyone knows it, and you have the extremely rich and you have us."
In the crowd, there is talk that the banks cut off the company's credit, and rumors that the bakery machines were trucked out overnight to a facility in Canada. Most of all, there is a numbing sense among people like Diana Anderson that nobody outside this little town will care much.
Anderson is a fierce abortion opponent -- the issue that led her to support George W. Bush.
But this year?
"Definitely Obama. ... I am definitely going to vote for Obama."
Losing your job can change your political priorities.
"It really does trump all else," Anderson says. "McCain has shown me nothing that would benefit us and our economy."
E-mail to a friend