ANCHORAGE, Alaska (CNN) -- An investigation into Alaska Gov. Sarah Palin's firing of her public safety commissioner can proceed, Alaska's Supreme Court ruled Thursday, clearing the way for a Friday report to the state Legislature on the issue.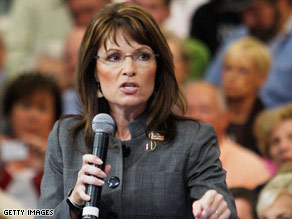 Alaska Gov. Sarah Palin has denied wrongdoing in the July departure of her public safety commissioner.
Allies of Palin, the Republican vice presidential nominee, had sued to halt the Legislature-initiated investigation, saying the investigation is an attempt by Democrats to sabotage the GOP ticket.
The justices unanimously upheld an Anchorage judge's ruling last week that dismissed the Republican lawsuit and upheld subpoenas for top Palin associates.
The conservative legal foundation that represented the plaintiffs said it was disappointed in the decision.
"Every citizen of Alaska will suffer a loss of their rights as a result," Hiram Sasser, litigation director of the Texas-based Liberty Legal Institute, said in a written statement. "If they can conduct this kind of smear campaign camouflaged as an 'investigation' against private citizens and government officials, then you could be next."
State Sen. Hollis French, the Democratic lawmaker managing the investigation, said Thursday's ruling "has affirmed that the separation of powers doctrine is alive and well."
Friday is the deadline for Stephen Branchflower, the prosecutor hired to conduct the inquiry, to make his report. At a campaign stop in Mason, Ohio, Palin said she wasn't nervous about the report.
Don't Miss
"We have nothing to hide, absolutely nothing to hide," she said.
The Alaska Legislature's bipartisan Legislative Council unanimously commissioned the investigation in July, the month former Public Safety Commissioner Walt Monegan says he was fired by Palin.
Palin said Monegan was dismissed after he clashed repeatedly with her over budget issues. But Monegan has said he believes he was fired because he resisted pressure to fire the governor's ex-brother-in-law, State Trooper Mike Wooten.
Palin, who has called Wooten a "rogue trooper" who threatened her family during his divorce from her sister, has denied wrongdoing. She said Monegan continued to lobby lawmakers for projects she opposed.
Palin initially pledged to cooperate with the investigation. But after she became Sen. John McCain's running mate in August, five GOP lawmakers sued to block the investigation. Her allies have argued that the legislative investigation is a Democratic-led witch hunt and that the state Personnel Board should instead lead the inquiry.
The governor's husband, Todd, and several top aides spent three weeks resisting subpoenas issued by the state Senate in September. But after last week's decision by Anchorage Superior Court Judge Peter Michalski to uphold the subpoenas, and with Friday's deadline for the investigation's final report approaching, they agreed to give statements to a special counsel this week.
Todd Palin said in a sworn affidavit released Wednesday night that he never pressured Monegan to fire Wooten.
Todd Palin said his wife was unhappy with Monegan because of "budget issues and failure to fill trooper vacancies."
"Walt Monegan was, to the best of my knowledge, not terminated," Todd Palin said. "He was offered a reassignment [to the post of executive director of the Alcohol Beverage and Control Board], and he resigned rather than accept the reassignment."
Todd Palin also acknowledged that he raised complaints with members of his wife's administration about a workers' compensation claim filed by Wooten, accusing the state trooper of fraudulently receiving benefits.
He said he photographed Wooten riding and working on a snowmobile on a day in 2007 when he was supposed to have been out on disability.
The issue is one of the facets Branchflower is expected to cover in his report. Branchflower already has taken statements from at least two people who handled the claim, one of whom said her boss was told by the governor's office to deny it, he told lawmakers in September.
But Todd Palin said he never pressured anyone to fire Wooten, and said the governor told him at one point to "drop it."
"Anyone who knows Sarah knows she is the governor and she calls the shots," Palin said.
And he defended his frequent contacts with officials in his wife's administration, saying that "few complained" when the spouses of the previous two governors helped their husbands.
"It is unfair to apply a double standard against my wife just because she is the state's first female governor," he said.
E-mail to a friend

CNN's Tracy Sabo and Matt Smith contributed to this report.
All About Sarah Palin • Todd Palin • Alaska