From Paul Courson
CNN
WASHINGTON (CNN) -- A federal judge again declined to declare a mistrial or throw out charges in the corruption case against Sen. Ted Stevens on Wednesday, despite the defense's claims of prosecutorial misconduct.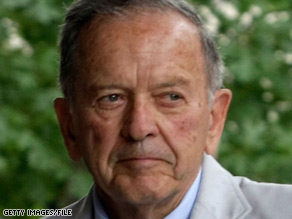 Sen. Ted Stevens did not disclose to the U.S. Senate work done on his Alaska home, prosecutors say.
However, U.S. District Judge Emmet Sullivan said some evidence will be stricken from the record and jurors will not be allowed to consider it.
Lawyers for Stevens, R-Alaska, alleged that prosecutors concealed information that would have helped them defend the senator. Stevens is accused of failing to disclose in Senate finance reports more than $250,000 in gifts, most of which involved renovations to his Alaska chalet.
Sullivan began hearing arguments on the defense's motions seeking the mistrial declaration or charge dismissals on Wednesday afternoon, after the prosecution wound down its case.
But Sullivan ruled that the trial will proceed. Stevens' attorneys say they plan to call former Secretary of State Colin Powell as a witness on the first day of their case.
The 84-year-old Stevens, the longest-serving senator in Congress, is seeking a seventh full term in November.
Some of the defense's allegations of prosecutorial misconduct relate to documentation of a swap of two vehicles between Stevens and Bill Allen, owner of Veco Corp.
Prosecutors call the swap a "sweetheart deal." It was already known that Allen agreed to swap his new 1999 Land Rover for Stevens' collectible 1964˝ Mustang convertible. Stevens gave Allen the car plus $5,000 to seal the deal, according to the indictment.
Prosecutors have disputed the value of the Mustang, portraying the difference as among the "gifts" Stevens was required to report.
But defense attorneys, cross-examining Allen over the past two days, came up with dealer and factory materials suggesting that the invoice price of the Land Rover was $37,500, far less than the $44,000 prosecutors claimed was paid.
Allen said that he couldn't remember what he paid for the Land Rover but that "they probably stuck it to me."
When prosecutors followed up, they produced a bank check with Allen's signature for $44,339.51.
Stevens' defense attorneys say prosecutors were required to disclose that check before the trial began.
"We did not produce a copy of the check as we never intended to introduce it," federal Prosecutor Joe Bottini wrote in an e-mail the defense filed with other documents early Wednesday. "We were surprised by the introduction of the Land Rover corporate exhibits that you introduced."
Stevens attorney Rob Cary wrote, "The government's failure to disclose this piece of evidence is especially offensive."
Cary cited what he called "a pattern of failing to abide by the orders of this court, constitutional mandates and the Federal Rules of Criminal Procedure."
The defense also filed motions to dismiss the charges last week, alleging that the prosecution withheld evidence relating to renovations of Stevens' chalet in Girdwood, Alaska. Allen's company did most of the renovations.
The information included an FBI investigator's report that Allen said showed Stevens would have paid his bills had he known about them.
"We were entitled to that information before we started the case," Cary said last week.
Sullivan rejected the defense's motions last week, as he did Wednesday, and allowed the trial to proceed. However, he said he suspected that the prosecutions' late disclosure may have been deliberate, describing it as an apparent attempt to "hide the ball."
Allen has been the government's star witness as part of a deal for his guilty plea in a case involving attempted bribery of Alaska state lawmakers.
But Allen, when cross-examined by defense attorneys, testified that he didn't bill Stevens for some of the work done on the senator's home.
Lead defense attorney Brendan Sullivan, who is not related to the judge, told the jury during opening statements that Stevens could not report a gift he didn't know about.
When Brendan Sullivan asked Allen why he failed to bill for all of the work, Allen testified that he thought his Veco workers had overcharged for the job and that he could not come up with a fair price.
E-mail to a friend

CNN's Deb Krajnak contributed to this report.
All About Ted Stevens • VECO Corporation • Alaska