(CNN) -- iReporters across the country agree that Sen. Barack Obama won the second presidential debate Tuesday at Belmont University in Nashville, Tennessee.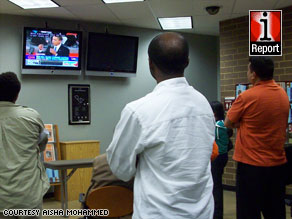 Students at Northern Virginia Community College gather to watch the second presidential debate Tuesday.
Dozens of iReporters sent in video reactions to the debate between Obama and Sen. John McCain. While the majority said that Obama came out ahead, several iReporters called the face-off a tie.
The reaction from iReporters reflects the results of a CNN/Opinion Research Corp. survey that was conducted after the debate. Fifty-four percent of respondents said Obama performed better in the debate, while 30 percent said McCain fared better.
Frequent iReporter Jason Dinant noted that McCain went into the debate with the advantage of the town hall meeting. "However, at the end, hands-down Barack Obama won this debate," he said.
Dinant, who lives in Las Vegas, Nevada, said he is now an undecided voter. Originally a supporter of former Democratic candidate Sen. Hillary Clinton, he later switched his vote to McCain.
After watching both presidential debates, he is now considering voting for Obama in the presidential election. iReport.com: Watch why Dinant is tried of hearing the phrase 'my friends'
Obama "came off as definitely more knowledgeable in this debate," he said. "Sometimes McCain stumbled and you could definitely see it through his lies."
Don't Miss
Obama supporter Jason Jewett of Denver, Colorado, was pleased with Tuesday's debate. "McCain was rude, condescending and seemed ill-prepared at times," he said. "Obama was cool, calm, collected, laid-back, prepared and even appeared presidential."
Jewett said that he believes McCain misrepresented Obama's policy plans and that the Republican candidate "resorted to cheap attacks, lies [and] smears." iReport.com: Watch Jewett's debate analysis
"John McCain proved to America tonight that he should not be President of the United States because he either doesn't understand reality or does understand it and chooses to misrepresent reality and lie to voters anyway."
Although Jewett, 25, said he believes Obama won Tuesday's face-off, he hopes both candidates do a better job of directly answering questions in their third and final debate.
"Both candidates seem to avoid the questions and either respond to assertions made by their opponent in previous questions or just spout out regular old party platitudes that the American public doesn't want to hear anymore," he said.
Jon Berry of Dearborn, Michigan, said he was disappointed with McCain's performance in the debate. "He needed to be really strong tonight," he said.
"He didn't address his plans to change things in America," Berry added. "He was stuck in the past."
Berry, 22, said Obama delivered a strong performance. "He stood up, talked about the issues, talked to the American people about what he wants to do to help us out."
"I think that Barack Obama really stood out and shone tonight. He's a strong candidate for change and something needs to be done," he said.
Kent State University student Katy Brown was one of the few iReporters that said McCain won Tuesday's debate.
"McCain knew his territory very well and rose up to the challenge and I think America is impressed," she said.
Brown, a staunch McCain supporter, said she found major problems with Obama's statements on offshore drilling, small-business taxes, coal and the war in Iraq.
"We need someone that's straightforward and will give us what we need to hear, not someone who will give us what we want to hear," she said. iReport.com: Watch Brown's debate analysis
Several iReporters, including Trevor Dougherty of Ithaca, New York, considered the debate a tie. "I was glad, this time, to see two candidates actually worthy of comparison discussing the issues," he said.
Dougherty, 16, said McCain often made "stupid attacks," while Obama maintained his cool. iReport.com: Find out why Dougherty didn't see a clear winner
"I would hope that next time Obama was a lot more passionate," he added. "It would show that he really cares about being president and changing this country."
Obama supporter Jordan Sarver said the face-off was a draw because his opinions of both candidates remained unchanged.
Sarver, who lives in Athens, Georgia, said Obama connected with the audience by presenting a clear plan for his presidency. He noted that McCain began the debate strongly, but later lost his cool.
In particular, Sarver said he disliked how McCain referred to Obama as "that one," when attempting to associate Obama with President Bush on the issue of energy.
"There was a lack of respect and almost a sense of disdain," he said, adding that he thought McCain came off as snide and overconfident.
"Barack Obama was trying to use his attacks to relate John McCain to Bush, but John McCain's attacks were almost on a personal level, and that just really put a bad taste in my mouth."
Undecided voter Barbara Rademacher said McCain fared better on domestic issues, while Obama was stronger when it came to foreign policy. iReport.com: Watch her complete analysis
"For me, this debate was a complete draw. I went from not liking either candidate at the beginning of the debate to now liking them equally," she said.
She added that McCain especially impressed her "because he was more specific on the issues, especially the domestic issues."
Rademacher looks forward to the next debate, which will hopefully help her decide on a candidate. "I expect, though, that I will remain undecided all the way up until the moment I walk into the voting booth."
E-mail to a friend